(Above) A view of the old town and the Nam Van Lake from the Macau Tower. Photo: Filip Maljković of Pancevo, Serbia. License: CC-BY-SA-2.0 Source: Wikimedia Commons
Marco Carvalho
The secretary-general of Caritas, Paul Pun, believes that the 2022 edition of the annual Charity Bazaar, which the non-governmental organization usually promotes in early November, will be held on Nam Van lakeshore as was customary in pre-pandemic times.
The initiative – one of the largest fundraising events held annually in Macau – traditionally takes place in early November, but in 2021 the Catholic NGO had to relinquish one of its primary sources of revenue, following the discovery by the Health Bureau of a local COVID-19 outbreak. The pandemic still looms large over the Special Administrative Region, but Paul Pun Chi Meng is hopeful that the Charity Bazaar might take place in just over one month without being hindered by major constraints.
"The Bazaar, at the moment, is still in its preparatory phase. We believe that if there is no new outbreak, the Bazaar will unfold with a renewed vigor, comparable to the pre-pandemic times. On behalf of Caritas, what I can say is that the organization hasn't lost the capacity to guarantee that the Bazaar is managed in the same way as it was run in the past," the secretary-general of Caritas told O Clarim.
"We need, nonetheless, to be prepared for the eventuality of a new COVID-19 outbreak. In any case, I hope that there are no new infections so that we can organize the Bazaar the same way it has always been organized," Pun Chi Meng points out.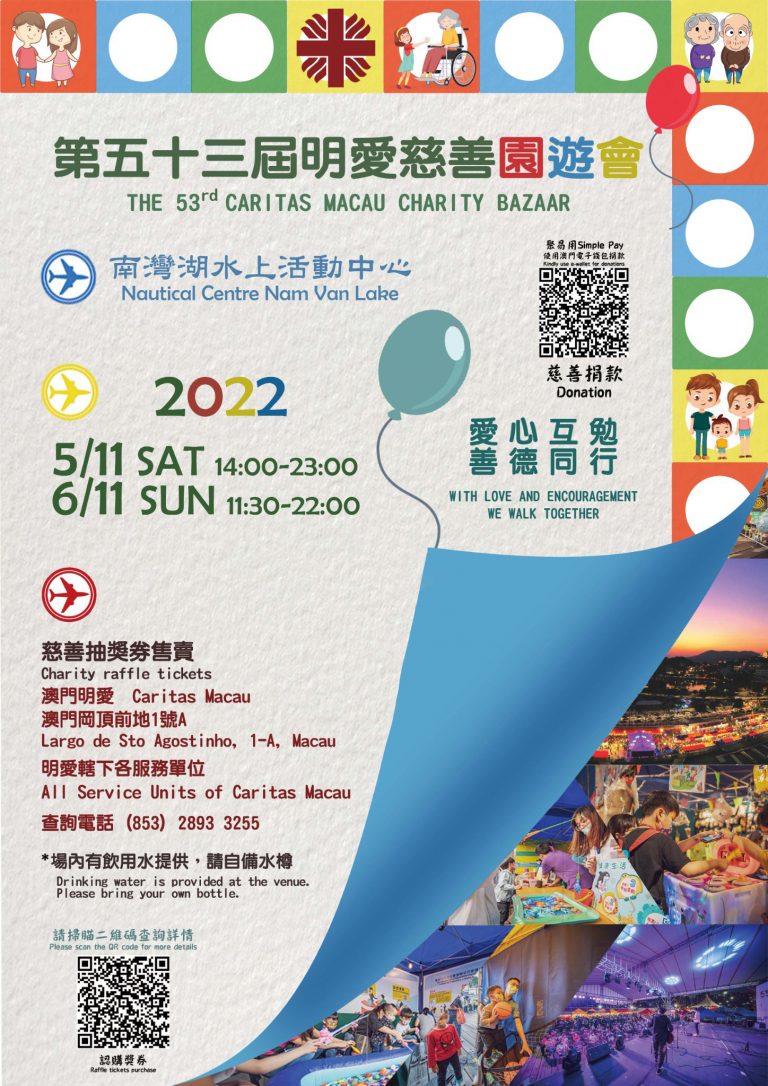 Before the Covid-19 pandemic turned the local residents' expectations upside down and the economic performance of Macau's companies on its head, the Charity Bazaar was a perfect example of how supportive the territory can be. The event usually brings together close to one hundred government departments, companies, schools and associations that compete among themselves to raise funds. The collected money is then channelled to Caritas and help the organization finance many of the services and activities it promotes throughout the year.
But the involvement of the civil society as an agent of change is just one of the aspects of a fundraising campaign that reaches its climax at Nam Van Lake Nautical Centre in early November. Simultaneously, Caritas promotes a lucky draw in which the participants have the chance to win more than one hundred prizes. The tickets for the raffle are already on sale.
"The raffles are now available to all those who wish to buy them. If someone wants to buy 50 tickets or more, we'll deliver them directly," Pun Chi Meng explains.
He adds, "As in previous years, we also sent raffle tickets to schools, hoping that students and parents may sell them. We were also contacted by some local companies. The tickets are also available at the Caritas Library and all the Caritas Centres throughout Macau. Those who want to support us can find them there."