Jasmin Yiu
jasminytm.mo@gmail.com
After its suspension due to Covid restrictions, the procession of Bom Jesus returned to the main street in Macau. This intangible cultural heritage has always attracted numerous pilgrims and visitors to the SAR, especially the faithful from the neighboring Diocese of Hong Kong, and Fr Timothy Wan Kwok Kwong is one of them. A mystical encounter with Bom Jesus caused him to start thinking about his journey to the priesthood.
Fr Tim, I noticed that you have a deep connection with and devotion for Bom Jesus dos Passos. Can you tell us a little about it?
Fr Tim: Rosary Church in Tsim Sha Tsui used to be my parish. And as you know, it's a very international parish with a number of Portuguese and Macanese. There was a Macanese lady living in Hong Kong who invited me to join the procession. She shared her experience with me about how an encounter with Bom Jesus had converted her, and how she decided to stop entering casinos. She has been attending the procession every year since then. At that time, I attended the procession with a very simple attitude, not even thinking of it as a pilgrimage or a retreat. It was just like a simple tour. It was a two-day tour, followed by a solemn procession and devotion.
Presumably, the procession of Bom Jesus was very new to you. What was your first feeling when you witnessed this huge procession?
I don't remember feeling particularly shocked or overwhelmed, but it was a very sacred devotion. I went on to do an outdoor Way of the Cross the way I normally would.
I was with some Macanese, who, in addition to their faith, have many stories and anecdotes, like "you must follow closely to the statue, preferably right next to Jesus and particularly in the direction that Jesus is facing…" Therefore, I attended with a minor sense of novelty and newness.
When the crowd reached Rua de Pedro Nolasco da Silva, I suddenly heard someone calling out my name. In fact it was my nickname "ah-Tim!" Naturally, I turned around and looked back, but I couldn't see anyone that I knew who would call me by my nickname. All I could see was the statue of Our Lord. I immediately turned around and continued walking as if nothing had happened; but I thought, "Oh, no! He was calling me. Can't be anything good," because I knew from my heart that He was surely calling me for a sacrifice.
The procession continued, and upon reaching the station near Centro Católico, I heard Him calling out my name, not externally this time, but He called from within, inside my heart. I began thinking seriously, not sure whether I should look back since I was certain there was no one I knew. I turned around in the end, and it was indeed Jesus, carrying the cross, and His eyes fixed on us.
Afterwards, I heard a voice in my heart again, saying, "You have to offer me." And I responded, "I have always been offering to you." The voice answered, "you know what kind of offering I am referring to." I immediately turned around and continued walking, pretending nothing had happened. After the procession, I even went with the Macanese for a nice Portuguese dinner, and I mentioned this experience to no one.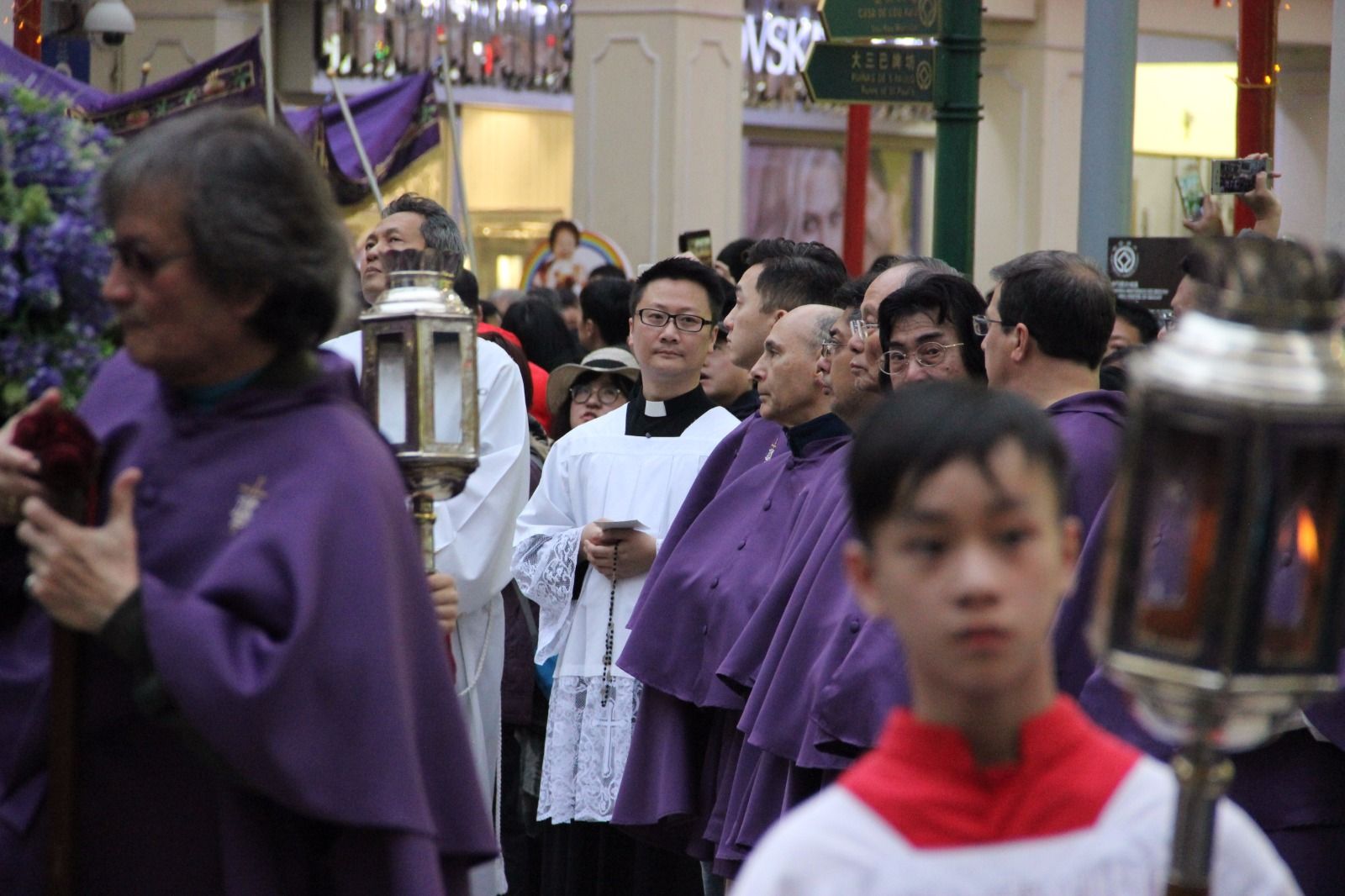 ---
So this is just the beginning…
Back in Hong Kong, I regularly visited the Blessed Sacrament at an adoration center. One day, a lady came to me, passing me two sets of application forms, one in Chinese and one in English, about the Carmelite monastery for men in Taiwan. This lady explained that she heard Jesus calling me while she was adoring the Blessed Sacrament. Therefore, she insisted that I fill up the forms. When I arrived home, I did not listen, of course. However, I bumped into her on two occasions, and she urged me to apply. In the end, I was annoyed by her asking and urging, and I lied to her, saying "I handed in the form but received no reply from the congregation."
A few months later, I remembered it was the feast of the Assumption of Our Lady. I went to the Rosary Church for Mass and saw this lady again. As usual, she was very insistent that I should not stop trying, and I was so touched.
Why touched particularly?
Because before meeting her, I had been attending a prayer group. In that group, there were a few young ladies who happened to consider their vocation as well. I had no idea or concept of the topic of vocation, so I shared my experience at Bom Jesus. They all exclaimed, without a hint of a doubt, "Jesus is definitely calling you! I'm very definite!" And they introduced me to Sister Louise Lam, a member of the Diocesan Vocation Commission (Hong Kong).
Since it was the feast of the Assumption of Our Lady, I personally did a week of discernment before contacting Sister Lam. I remember I particularly dyed my hair into different colors and wore earrings before seeing her, just to win her disapproval, just to hope she disagreed about the fact that Jesus was calling me. But, in fact, she asked me to stay in the prayer group, and hence I stayed for two years in total.
In these two years, I joined the prayer group of the Diocesan Vocation Commission as well as the one organized by the Holy Spirit Seminary. After this period of prayer and discernment, I knew very clearly that this was indeed God's call and, finally, I entered the seminary.
However, through these two years of discernment, I knew He was calling, but I was reluctant and unwilling to accept, and even longed for God's answer of "calling the wrong person". From reluctance to full devotion; from unwillingness to a total offering, it was all God's plan of letting me meet Dr Anna Chan. I was able to change my attitude through her guidance and teachings.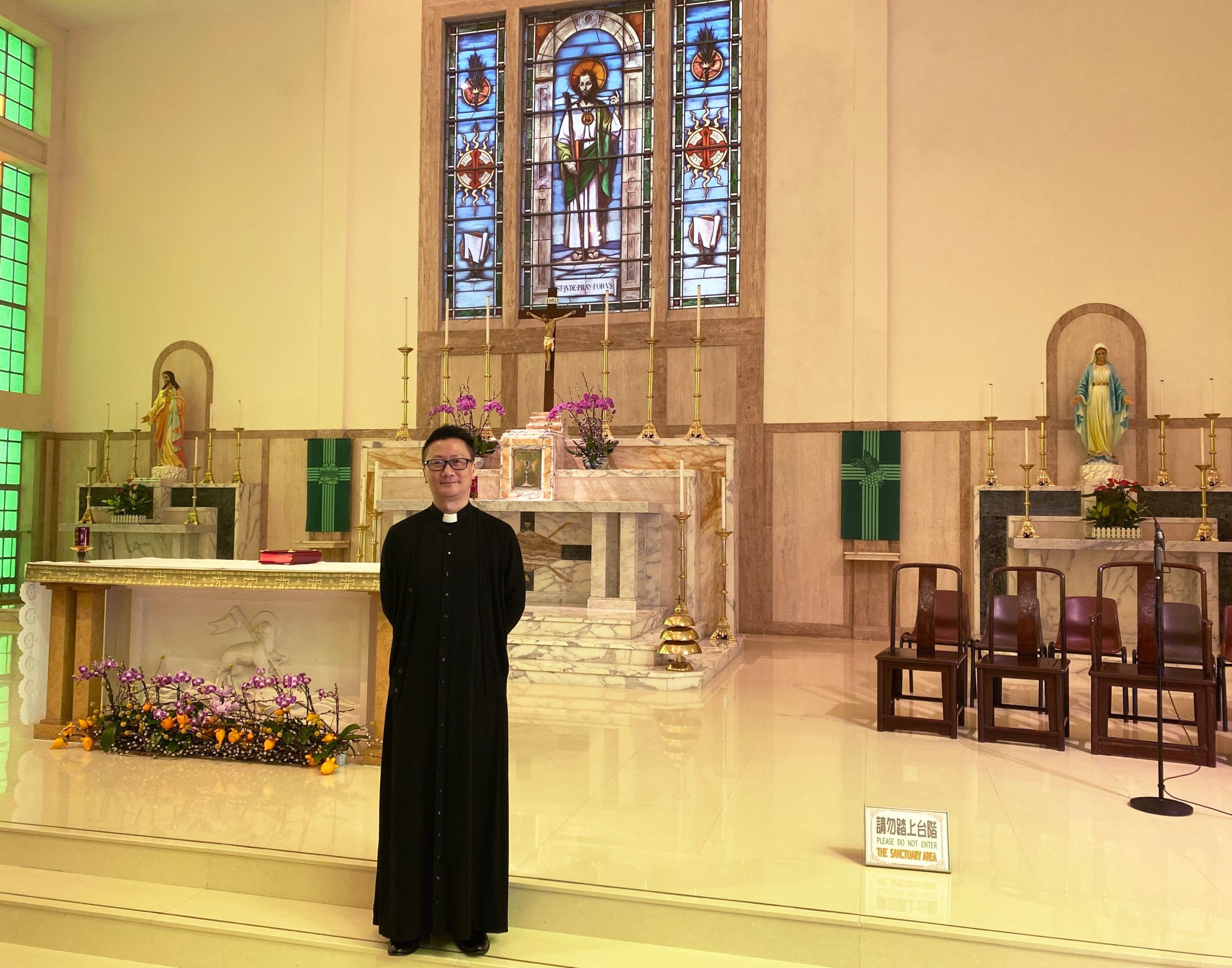 ---
You had just been baptized at that time, hadn't you?
It was not baptism since I was baptized in the Protestant Church when I was a child. I converted to Catholicism in my adulthood. I think this experience was around two years after my conversion.
So did you return to Macau for the procession every year after entering the seminary?
I tried my very best to participate every year, if it was possible. I recall that all the brothers (seminarians) came to Macau after hearing my witness and experience; but they did not crave to join in. They do not have this "fever" to participate every year. This is the kind of the bonding between me and Bom Jesus.
As far as I know, after your ordination, you have invited many Catholics coming to Macau for this yearly event. This year you accompanied a few young people too. Will you share with them the legends and stories you heard as well as your experiences?
No, not in particular. These so-called miracles and legends only come up by accident. If we pursue miracles, it will become superstition. However, those who have strong faith will receive miracles or even live miracles. Those who seek and search for miracles are bound to be superstitious, because they are obsessed, since they long for miracles to satisfy their own needs and desires. True faith is to put aside one's own needs, and seek the will of God.
Therefore, I would suggest that young people as well as all Catholics accompany Jesus on this path of the Passion by opening their hearts. Pray and converse with Jesus with this open heart, because the procession of Bom Jesus is a very solemn, sacred prayer and mortification. If we open our hearts and devotedly attend this special atmosphere, we will easily connect with God. What happens afterwards – all will depend on this connection and conversation. What we should really pursue is to seek a deep relationship and connection with God.