Marco Carvalho
With songs, prayer, and sacred ritual, Bosco Chan and his fellow seminarian Adriano Agostinho were installed as Lector by Bishop Stephen Lee, in a ceremony that took place at the Church of Saint Joseph's Seminary. The event is an important step on the path to Bosco's lifelong goal of becoming a priest. Born in Hong Kong, the 32-year-old seminarian felt he was being called to serve as a minister of God twelve years ago, back when he was studying at the University. Bosco completed a degree in English and has spent a few years teaching in Hong Kong schools, but the calling to dedicate his life to God and to the Church was stronger and the young seminarian is now two steps away from the priesthood and a life at the service of the Diocese of Macau. O Clarim spoke with the future priest.
You are now a step closer to priesthood. You were installed in the Ministry of Lector, in what was a very serene, but meaningful ceremony. It was a happy moment for you, I presume…
Indeed, it was. I am overjoyed at the moment. I have to go a long way back, how God's love has prepared my life. It seems that the plan is unfolding for me. It is one more step towards ordination and this ceremony was really a great encouragement today. I was touched by the Word of God and now I am able to take up this ministry of the Word of God.
You chose the right word, when you claimed that this road of yours to priesthood is, in a certain sense, an encouragement. We don't see many young people today fuelling this beautiful vocation. When did you know that to serve God was the way forward for you?
It was when I was 20 years old. It has been over twelve years now. It is really a long journey, but when I was 20, God revealed himself so much to me and He did it, actually, in many small things. He has shown me how He loves me and how much more He desires to give me the kind of happy life that He has destined to me and for many others, also.
You were born in Hong Kong. Hong Kong is living in challenging times nowadays. My question goes in this sense… Would you like to serve your people in Hong Kong? Where do you see yourself as a priest a few years from now?
I see myself as a priest in Macau, but, of course, in my vocation I have always been called to serve Chinese people in a special way. Of course, to be called by Christ himself, to serve the Church, I have to be very open. Whenever the need comes, I will have to go. So, I will allow Jesus Christ to take the lead, on leading me to serve the people that He calls me to.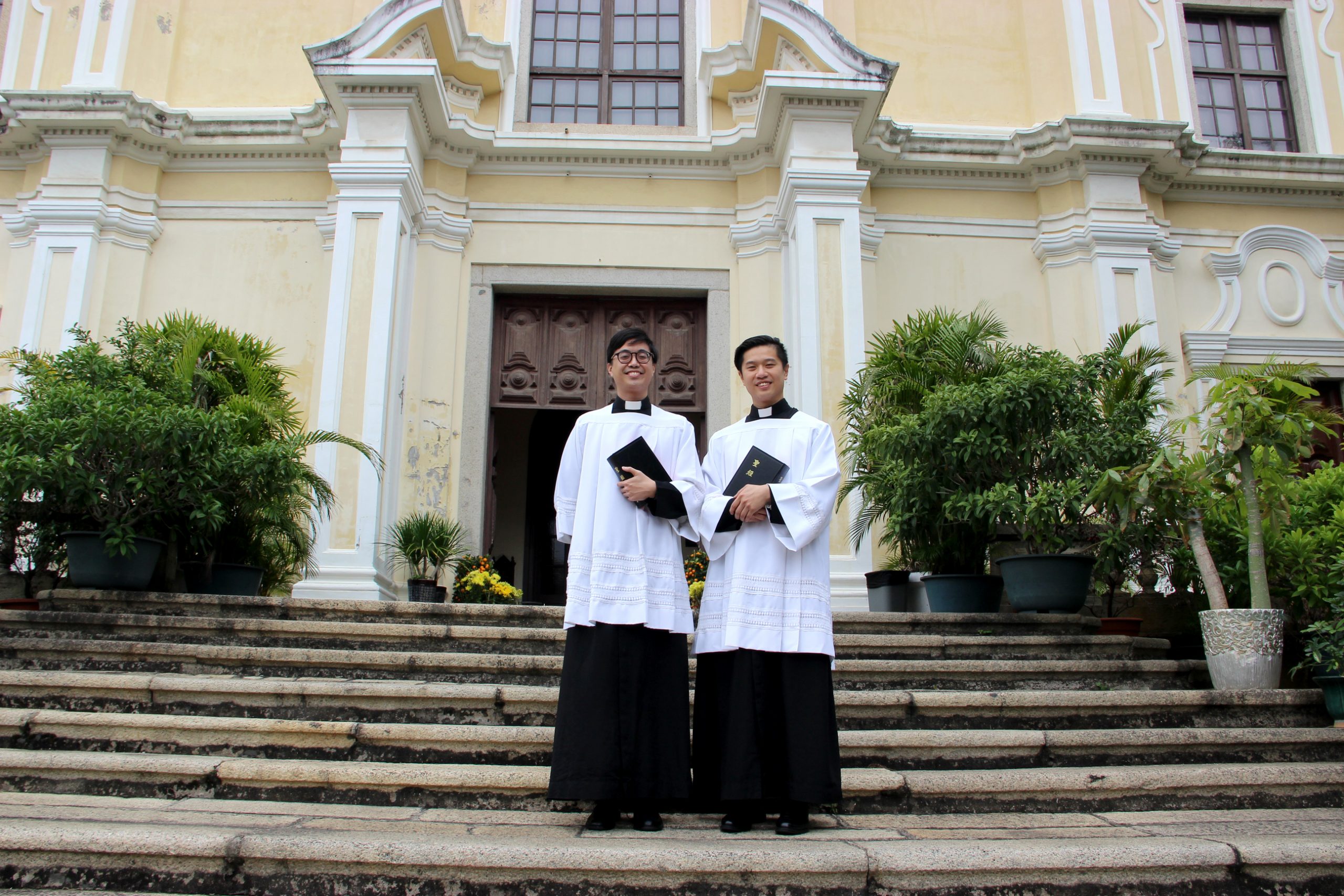 I mentioned renewal a few moments ago. What we considered as traditional bastions of the Church – places Portugal, Spain, France or even Italy – are going through a certain sort of crisis in terms of vocations. Until recently, when we spoke about missionary work, we usually spoke of people leaving their places and going to places like Africa, South America or Asia. Things are rapidly changing, nevertheless. Do you see yourself as a Chinese priest in Europe or in a place of this kind?
Well, I see myself in the 21st century serving the Lord. If the Church is having, let's say, a trend, a tendency of having more local priests serving the local communities, encouraging more local people to hear the call and respond. As for now, I don't see much of my… Let's say, place or call in Europe or in the West. Of course, I have always been attracted to the faith that had been nurtured and established in the West. That has really enriched my life, in many moments of my life, the way the Church in Europe and many missionaries from the West have touched my life…
You have studied English before deciding that to serve God as a priest is the right way to fulfil your life. How did this former experience of yours enriched your role, as a Seminarian? And how may it enrich your life as a priest in the future? Having in mind the challenges that the Church faces, do you think that experience that you had before becoming a Seminarian can enrich your role as a minister of God?
Yes, I certainly do. I feel myself called in the current of the 21st century. I feel myself serving the people of this century, in ways that are tuned to them, that they can understand, that are communicable to them. My background, I think of it as a gift from God, that will allow me to serve a wider public and the society, in general. But I really see people nowadays thirsting for God in ways that are much more subtle. I do think that in my experience, my spiritual life allows me to share a lot with the people that surround me….
One last question. What do you see as the most worrying and immediate challenges that the Church faces nowadays? You mentioned twice the idea of a 21st century Church. There's a sort of continuous dialogue or dialectics between change and continuity. How do you see the challenges that the Church faces nowadays?
There are many, of course, but for one, I would say it is noise. Twenty-first century people are overwhelmed by the noises and data that are flooding their senses. This will numb them to the intimate and gentle love of God. It will numb them to the hidden miracles and little doings of God. I do think people nowadays really need to regain the senses that they once had against a lot of the shackles that are really encroaching them. I hope that – with a life of prayer and silence and in cultivating that – people around me, can really gain back the eyes of faith and the ears of faith.
Related Posts