Leonard Dollentas
For the last 27 years the El Shaddai Catholic prayer group has played an important role in the lives of the thousands of Overseas Filipino Workers (OFW) in Macau. El Shaddai members often describe the encounter with the movement as a new beginning for them, a wake-up call from all the mistakes and hardships they went through before in their lives. Before joining the community, most of the respondents say they were involved in vices, arrogant behavior, and a life without God, but El Shaddai made them grasp the deeper and true meaning of Christian life, making them God-fearing individuals.
Thus, on February 13, 2021, as the members of this Catholic charismatic group celebrated their 27th anniversary in Macau, they recall once again how God has been generous to them. The celebration started with a thanksgiving Mass at Fatima parish. Fr Leonard Dollentas celebrated the Mass with Fr Jose Angel C Hernandez, SVD and Fr Oliver Dave Estor, SOLT joining him as co-celebrants.
In his homily, Fr Leonard recalled that the Philippine church is celebrating the 500 years of Christianity in the country this year. He pointed out that El Shaddai has contributed to the understanding and the flourishing of Catholic renewal movements in the hearts of the Filipino Catholics: "The El Shaddai fellowship international has been a witness in the Church as to how much the Holy Spirit wants to do for the people. As a fellowship, it has touched the lives of countless people through healing services, evangelization, and outreaches. But above all these, renewal movements aim at the renewal of faith, therefore ask for the grace that God may constantly lead each of you towards faithfulness to him and love for the Church." Following the Mass, the workers joined the fellowship and service they had prepared at the social hall of the church.
The El Shaddai Macau Chapter is led by Bro Aldrine M Gailan, the disciple in-charge. The council members are Bro Sanel I Dangaran, Sis. Maricel R Verana and Sis. Rowena M Eltagon. The chapter is composed of 60 volunteer workers and around 200 attendees. They regularly conduct chapter services at Our Lady of Fatima Parish.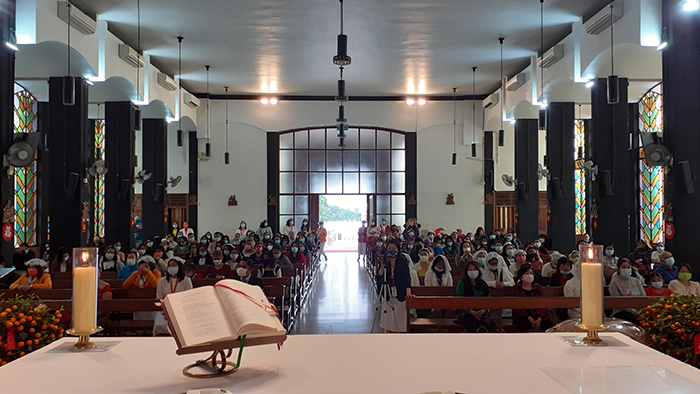 El Shaddai is one of the names of the God of Israel and is conventionally translated into English as God Almighty (Deus Omnipotens in Latin). The name El Shaddai, for the members, means "a God who is more than enough," a God who they can trust and encounter in their daily lives, a God who has been generous to them. El Shaddai prayer services include graceful movement that resembles dancing, petitionary prayer, a scripture reading, and preaching that engages the congregation. Members laugh and cry as they reflect on life, its difficulties and their worries. Their lively music with spiritual lyrics always elicits joyful emotions. El Shaddai gatherings stress that God is a God of healing, a God who will overcome suffering and loss.
Related Posts