Vatican City
Iraqi patriarch to Pope Francis: Chaldean Church is 'a church of martyrs'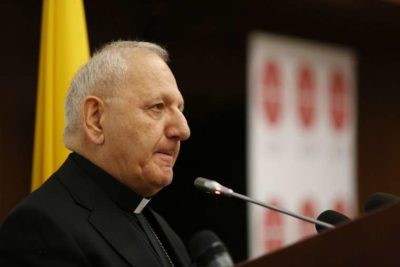 (CNA) The Chaldean Catholic Church is a Church of martyrs, Patriarch Louis Raphael Sako of Babylon told Pope Francis this week.
"Our Chaldean church, since the early centuries, was a missionary church which announced the gospel reaching as far as China, and gave so many martyrs and continues to give today," Sako wrote in an Aug. 4 letter to the pope.
Sako, who was elevated to cardinal last year, wrote that Muslim citizens of Iraq are also suffering and losing their lives.
"We hope that our common suffering is a sign of hope for a better future," he noted.
"The Chaldean Church, like the other Eastern churches, despite the small number, are a great sign for the universal Church and for other Christians in their commitment to life."
The head of the Chaldean Catholic Church since 2013, Sako wrote to Pope Francis at the start of the church's annual ordinary synod.
Lay people are participating in the synod for the first time. A representative of each diocese is in attendance for the first two days of the week-long synod, Sako wrote.
In his letter, Sako also expressed his gratitude for Pope Francis' prayers and closeness to Christians in Iraq and throughout the Middle East and noted the strong desire of Christians for a papal visit to Iraq.
Though Pope Francis said in June he would like to visit Iraq in 2020, there has not been any communication that a papal trip to that region is being planned currently.
GAZA
Muslim women spread Christmas cheer in Gaza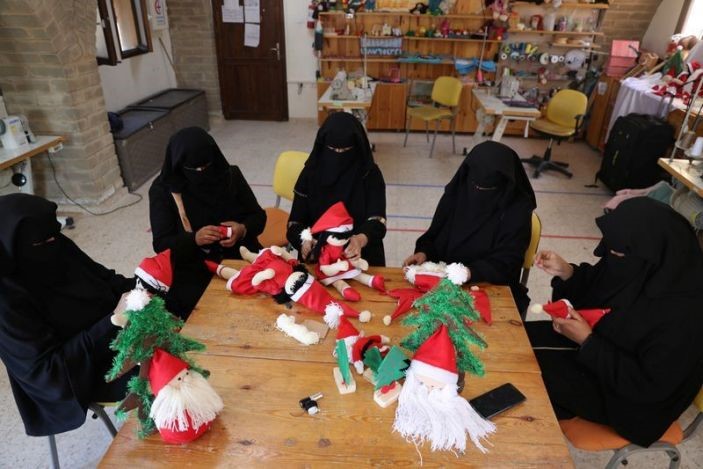 (Reuters) – Muslim women in the Palestinian Gaza Strip have been hand-crafting gifts for the approaching Orthodox Christmas as part of a project to empower a traditional community.
Their Santa Claus dolls, toy Christmas trees and red-and-white puppets come into high demand over the holiday season in Gaza, Bethlehem and Italy.
Though most of Gaza's 2 million population are Muslim, around 1,000 are Christian, mostly Greek Orthodox, who celebrate Christmas on Jan. 7.
"Our prophet encouraged us to respect all religions and we like to join with them in celebrating their day," said the group's product designer Laila Tayeh.
Tayeh and colleagues are part of the Zaina Cooperative Association, working in a Gaza community that often restricts women's movement outside the home.
Haneen Alsammak, the association's executive manager, said the project had given women training in carpentry and tailoring, and enabled them to leave their homes to work and spread some Christmas cheer.
"This is a message of love toward Christians inside and outside Gaza," she said.
AMMAN, JORDAN
Archbishop: Iraqis have 'big anxiety' after drone kills Iranian general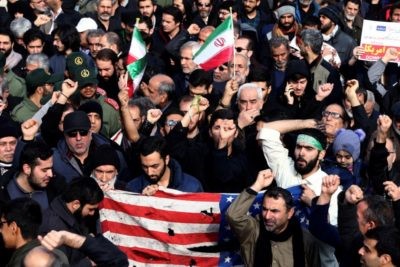 (Catholic News Service) Iraqis fear their country, already weary from years of war, may be dragged into a conflict between the United States and Iran, following the U.S.-targeted killing in Baghdad of Iran's top general, Qassem Soleimani.
"We prayed during the days of Christmas for peace on earth, and the timing of this revenge from America creates in us a big anxiety about what will happen" Chaldean Catholic Archbishop Yousif Thomas Mirkis of Kirkuk, Iraq, told Catholic News Service by phone.
"This can also divide the population. Some are against. Some are for," Mirkis explained, but warned that the assassination of Soleimani, known as the architect of Tehran's proxy wars in the Middle East, could spark further sectarian divisions in Iraq between Sunni Muslims and Shiites.
Many of the recent demonstrations rocking the capital, Baghdad, and southern Iraq were against the growing influence of Iran and Soleimani's al-Quds Force inside Iraq. Soleimani was widely seen as the second-most-powerful figure in Iran, behind Ayatollah Ali Khamenei, Iran's supreme leader. Soleimani is believed to have been responsible for hundreds of U.S service member deaths in Iraq. He was also Iran's main strategist in the Syrian conflict.
"We only pray that the situation can be calm and peaceful. We are waiting to see," Mirkis said. "The situation in Baghdad and the South is more troubled. But Kirkuk and Kurdistan region are still calm. Until now, this is all that we can say."