– ROBAIRD O'CEARBHAILL
"Playing with your children, 'wasting time' with your children, is also a way to transmit the faith. It is graciousness, the graciousness of God," Pope Francis told parents in Milan on March 28 2017. And, of course, playing with children often means having fun with toys, and as all psychologists agree, play is learning. It promotes physical and intellectual development, including language development and socialization. But whilst toys are usually considered fun items nowadays, they are much more intentionally designed to be educational as I found at the Asia's biggest toy fair, the Hong Kong Toy Fair. During Interviews for O Clarim with toy makers, mostly Catholic ones, I realized how passionate they said they were about helping children creating toys for pleasure in play and education to all children.
Gaetane Lannoy. Successful toy designer of Egmont Toys and established children books author and illustrator from Belgium
Clarim: Tell me about your feelings for your career
GL: I have a wonderful job. Drawing for children is the dream of my life. I work with my husband too. He is the manager. It is a passion shared between us.
Why and what started you wanting to help children?
When I was twelve years old I knew I wanted to have children, draw for children, do illustrations, bricolage (do-it-yourself kits) for them, draw and make toys, using wood and paper but not using plastics. I had been drawing already for a long time. Something I loved. Later (after art school graduation) I was a children's art teacher for the ages from five to eleven.
How important was the experience of teaching art to children for you for your working development?
I love working with children. For example when the children came to my lessons they saw what they could do. After one or two lessons they thought they could do a perfect drawing but it wasn't right. So I wanted to give them confidence. My idea was to make items that they can decorate. I created bricolage. For example, I needed them to make a box with paper with a picture. Even if the drawing was not so beautiful, they were happy to have a box to keep. After every lesson the drawings and the paintings got better. I had so many ideas to draw and paint for the children after I first produced (wrote and illustrated) nine books published by Castlemaine publishers. They have now been published for around nine years.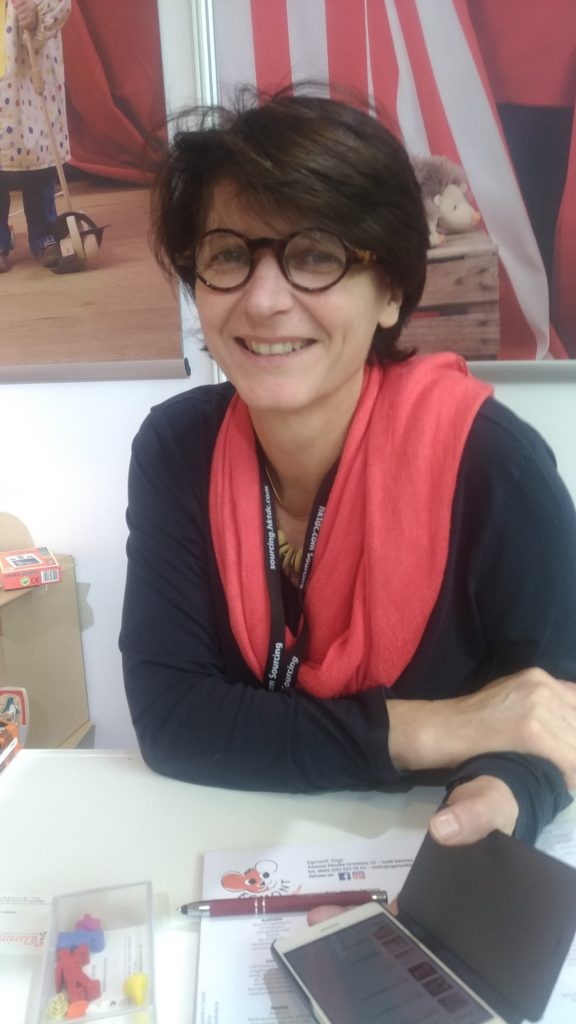 How do you get inspiration for your stories?
From the time of being of child I remember what I liked as a child then make a story from those memories.
Do you have children and are they following you in your profession?
Not following me. They are twenty-six, twenty-four and twenty-one. Children when they study sometimes they don't know what they want, not like me who always knew what I wanted to do.  But now they found their paths. The first one is a lawyer. The second one is studying psychology, the third, my son, he wants to do sales. He likes it very much. I am all happy with them.
How is the toy industry changing for you?
The mentality is changing. People want more ecological (production). They want products to be more natural, no pollution involved. For example, our children's lights are made in Germany, handmade. People like this and to have something unique. For our company the economy is changing. Firstly, we sent our references (products) to small shops but it is becoming more difficult because of the web with shops online and we need to adapt. 
How many times have you been to Hong Kong and how important is the fair for you?
We visit every year to our suppliers for nearly 20 years. Belgium is a very small country (to sell enough) but we have products, we export a lot and have a lot of distributors in Asia. The biggest toy fair in Europe,  Nuremberg is more international. Here are more Chinese suppliers.
You had a Catholic school education. Of course in Belgium almost every one is Catholic how well did in benefit you?
I had a good education. From school I got into the prestigious St-Luc academy in Brussels.  I believe in the power of humans. It was not so difficult to get in but to stay and was not easy to finish the course. It was difficult to succeed in practise.  (The quality of student art pieces done had to be very high or be expelled.)  St-Luc academy was how I got my career.
Ives Meermans, sales and marketing manager of Scoot and Ride manufacturers in Austria
I can see you like the toy industry very much don't you?
It's a fun business. I have two kids, three and seven and a half. It's in their world and it's my world too. So it's fun. As I company what inspires us is we create innovative products that keep children active and different from what our other colleagues are doing. It's most important to love your job because are spending á lot of hours working. It's most of your life so you must be enjoying it or it's going to be unenjoyably long.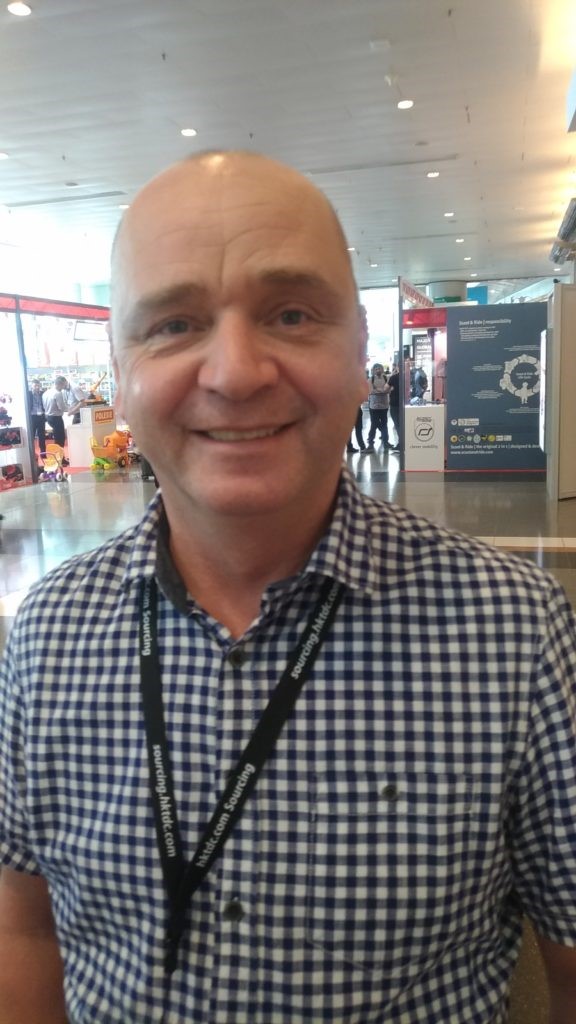 How is your company's progress?
We are in so many countries nearly fifty, to build a brand, from 2016 only in Germany and Austria. We are clever at creating mobility items (e.g. scooters) always two wheels mobile from ages one to three, three to seven and five to teenagers.
How has been your experience in Hong Kong?
We have exhibited here six times. It's big and a variety of nationalities here that we need to get customers not represented, from Canada, Latin America, China. We show new products in a private showroom. Meetings have privacy but showing new products at the fair they will be copied in a month.
You are a Catholic. How was education for you?
Catholic education was good, learnt a lot about values. Raised by my Catholic parents, a very good upbringing. Treating people well. Everything contributes to what you become: school, parents, friends and the environment.
Mark Williams, export director from an old, established toy maker in Poland, Alexander A.
You get  creative help from your kids don't you?
My children helped teach me. They come up with new ideas for the invention of, and creativity for existing or new products, which go into production. So they are very useful, they assist me.
Catholicism and close family have been beneficial to you haven't they?
Because of marrying my wife from a strongly Catholic family. Part of my life is my children, of course, brought up Catholic, all have had communion. Everyone is Catholic in Poland. Society is different there in terms of respect, Catholic respect. In England where I was brought up, in a village if you see a group of teenagers, outside, standing around you, you avoid them in case of trouble. In Poland in a village they will move out of the way for you. It is respect for the older people. There is respect for older generations by the young. I assume it is due to Catholicism which is very apparent there. Whether it is rain, the sun shining, or snow the churches are always full. And (as good Catholics should be) family closeness is strong. It is a great environment to live in. At the company too it is family, around forty members of the family work there. Having a very close extended family is very influential. We go on holidays together too with the extended family, for example skiing. And at Christmas so many get together; every three years the international relations come here around three hundred of them. 
Related Posts