Liturgical Mass Sheet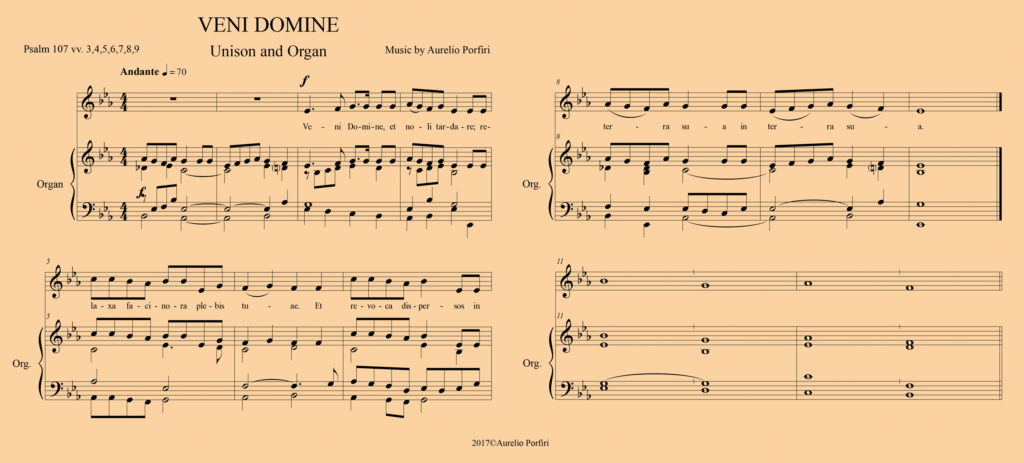 3 et de regionibus congregavit eos,
a solis ortu et occasu,
ab aquilone et mari.
4 Erraverunt in solitudine, in inaquoso,
viam civitatis habitationis non invenerunt.
5 Esurientes et sitientes,
anima eorum in ipsis defecit.
6 Et clamaverunt ad Dominum, cum tribularentur,
et de necessitatibus eorum eripuit eos.
7 Et deduxit eos in viam rectam,
ut irent in civitatem habitationis.
8 Confiteantur Domino propter misericordiam eius
et mirabilia eius in filios hominum,
9 quia satiavit animam sitientem
et animam esurientem replevit bonis.
3 and gathered in from the lands,
from the east and from the west,
from the north and from the south.
4 Some wandered in desert wastes,
finding no way to a city to dwell in;
5 hungry and thirsty,
their soul fainted within them.
6 Then they cried to the Lord in their trouble,
and he delivered them from their distress.
7 He led them by a straight way
till they reached a city to dwell in.
8 Let them thank the Lord for his steadfast love,
for his wondrous works to the children of man!
9 For he satisfies the longing soul,
and the hungry soul he fills with good things.
[3] e radunò da tutti i paesi,
dall'oriente e dall'occidente,
dal settentrione e dal mezzogiorno.
[4] Vagavano nel deserto, nella steppa,
non trovavano il cammino per una città dove abitare.
[5] Erano affamati e assetati,
veniva meno la loro vita.
[6] Nell'angoscia gridarono al Signore
ed egli li liberò dalle loro angustie.
[7] Li condusse sulla via retta,
perché camminassero verso una città dove abitare.
[8] Ringrazino il Signore per la sua misericordia,
per i suoi prodigi a favore degli uomini;
[9] poiché saziò il desiderio dell'assetato,
e l'affamato ricolmò di beni.
107:3
從各地召集來的,
東西南北聚來的。
107:4
他們在曠野和沙漠中漂流,
找不到往安居之城的道路。
107:5
他們口渴而又腹饑,
生命已經奄奄一息;
107:6
他們於急難中一哀求上主,
上主即拯救他們脫離困苦,
107:7
引領他們走入正道,
走入可安居的城廓。
107:8
願他們感謝上主的仁慈,
稱頌他給人子顯的奇蹟。
107:9
因為他使饑渴的人得到飽飫,
他使肚餓的人享盡美物。