WIS 7:7-11; HEB 4:12-13; MK 10:17-30
– Fernando Armellini SCJ
Claretian Publications, Macau
The gospel presents a just and blameless person seeking for eternal life. Jesus responds with a counter question that can be paraphrased thus: You already have "an outstanding teacher, God" who instructs you through the Scriptures. What else do you want? Is it not written: "They shall all be taught by God" (Jn 6:45)? Then, to help him in his quest, he reminds him of the precepts which the Lord has revealed to his people and which are the minimum requirement for admission to life.
The response of the rich young man is amazing. He declares, convinced, of having observed all the commandments right from the use of reason. Jesus, having heard the statement of the rich young man, "looked steadily at him and loved him". Mark says he looked at him with affection. He then throws out the decisive demand: "Go, sell what you have and give the money to the poor, and you will have riches in heaven. Then come and follow me".  
This is not a new commandment added to those of the Decalogue, but the invitation to adhere to an entirely new logic. It asks one to give up any egoistic use, not only of money, but of all goods, intelligence, health, beauty, one's time and all the abilities received from God. One cannot be his disciple if s/he does not detach the heart from what one possesses.
The value of the materials goods increases when they are donated to the poor. The ideal of a  Christian is not misery, famine, or nakedness, but the fraternal sharing of the goods that God has made available to everyone. Sin is not getting rich, but to enrich only oneself.  
Jesus continues then to speak about the dangers of wealth. "It's easier—ensures Jesus—for a camel to go through the eye of a needle than for one who is rich to enter the kingdom of God." Jesus uses an impossible paradox to refer to the "impossible decision" needed for a rich person to live eternally. The detachment from all that one possesses requires an act of generosity that only a miracle of God can help one do it.
The disciples understood that it is not about giving a lot or a little, but to offer all that one is and what one has, much or little it is.
Translated by Fr John Ledesma SDB
Abridged by Fr Jijo Kandamkulathy CMF 
---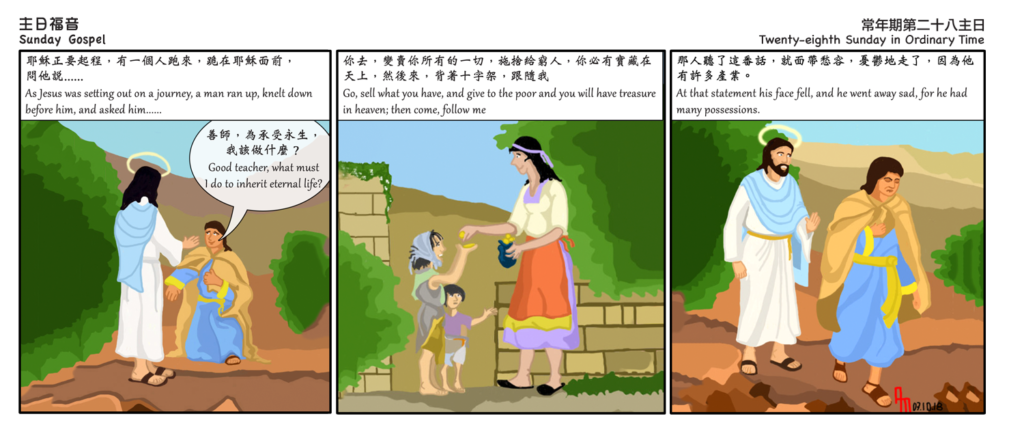 ---
"How hard it is for those who have wealth to enter the kingdom of God!"
– Shiu Lan
"How hard it is for those who have wealth to enter the kingdom of God!" Jesus said to his disciples in this Sunday's Gospel Reading (Mark 10:23). For those of us who live in the affluent first world, we are well to do, to say the least. It is easier for us to own a house or houses, a car or cars, the latest electronic devices, go on vacations, have investments and put away savings for the future. Are we not rich? We may not consider ourselves rich, because in the first world, personal assets are measured in billions. But compared to the rest of the world, we are living in luxury. The Gospel Reading is a powerful reminder that the lifestyle that comes with worldly success and riches will lead us into temptation, and excessive pursuit of material things and pleasures will lead to an insatiable craving, creating a spiritual void in us that is the root cause of sin.
When we see the wealth accumulation by big businesses in the global economy, we can see easily the exploitation behind the wealth accumulation, exploitation of the country where they establish their business and exploitation of the workers who work there.  But we must be mindful that it is not only big businesses that exploit, we may also be exploiting although inadvertently.  Have we been stingy with the tip to servers in restaurants? How about the elderly handy person, gardener or cleaning person. Are they getting their fair share of compensation? We must make sure we do not play a part in creating income polarization in society and in the world and in making the poor poorer.
We must be mindful that in many ways, we fit into the category of those who have wealth that Jesus talked about. Other than living responsibly, there are a myriad of things that we can do  for our own sake, for our community and for the world. We must not exploit, we must give generously to share our affluence with the marginalized, the abandoned in our society and all those who suffer immensely from poverty and persecution in the rest of the world.