Marco Carvalho
Often known as "the Nobel Prize in Theology", the Ratzinger Prize was instituted in 2011 by the Joseph Ratzinger-Benedict XVI Vatican Foundation with the purpose of distinguishing and aknowledging scholars and researchers who have made outstanding contributions to scientific research in the theological field.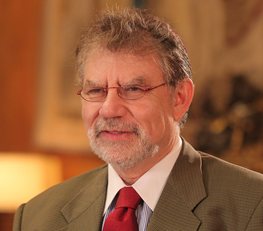 Awarded by Pope Francis at the Vatican in early December, the prize honoured both Father Michel Fédou, a renowned French Jesuit theologian, and Joseph Halevi Weiler, a legal expert and law professor with a strong connection with Macau.
Born in South Africa, the scholar – the first Jewish personality to receive the award – is a very well-known figure for his pro-bono intervention in the 2010 "Lautsi vs. Italy" case in front of the Grand Chamber of the European Court of Human Rights. Weiler managed to restore Italy's right to display crucifixes in state school classrooms. The scholar's intervention was praised by Pope Francis, with the Ponfiff claiming that Weiler's defense of pluralismo is the perfect example of "the correct understanding of the exercise of religious freedom in a culture that tends to relegate religion to the private sphere".
A former rector of the European University Institute near Florence, Italy, Joseph Halevi Weiler was among the co-founders of the Academy of International Trade Law in Macau. The president of the Institute, José Luís Sales Marques, told O Clarim that he was not surprised to see Professor Weiler being honoured by the Vatican.
"He was always associated with some of the most fundamental human rights issues. Professor Weiler drafted quite a good deal of legal opinions on a wide variety of matters and he is, therefore, highly respected at an international level," Mr. Sales Marques said.
"He is a brilliant jurist, an acclaimed legal expert. He was, for many, many years, one of the directors of the Academy of International Trade Law. Actually, he was one of the founders of the academy, together with Miguel Poiares Maduro and a third wonderful scholar, professor Francus Snyder. Joseph Weiler came to Macau many times. I got to know him personally and he is someone with extraordinary academic and communication skills, someone who commanded a lot of authority and respect. He is also a person who knew and knows how to deal with people, both with his students and with his colleagues. He is an extraordinary figure, Professor Weiler," the president of the Institute of European Studies of Macau told O Clarim.