Fr Leonard Dollentas
Carlo Acutis was beatified on October 10, 2020 in the town of Assisi in Italy after the Vatican ruled in 2013 that he miraculously interceded from heaven to cure a Brazilian boy suffering from a rare pancreatic disease.
Cardinal Agostini Vallini celebrated the Mass for the beatification ceremony at the Basilica of San Francesco, which was attended by Carlo's parents. In his homily the Cardinal said that like most young people his age, Carlo was a "normal, simple, spontaneous, friendly teenager who used modern forms of communication to transmit the values and beauty of the Gospel."
Pope Francis' apostolic letter was read during the Mass where the pope declared him "Blessed" and set October 12 as his feast day every year. On October 1, 2020, his tomb in the Church of Santa Maria Maggiore in Assisi, Italy was opened in advance of his beatification. Fr Carlos Acácio Gonçalves Ferreira , the rector for the Sanctuary, told EWTN that "his body was discovered to be fully integral, not intact, but integral, having all its organs." His heart, which can now be considered a relic, was displayed in a reliquary in the Basilica of St Francis in Assisi.
EARLY LIFE
Carlo Acutis was born in London in mid-1991 to Andrea Acutis and Antonia Salzano. His parents worked in London and settled in Milan not long after Carlo's birth in September 1991. Even as a baby, Carlo showed signs that he was blessed with unusual intelligence. At five, he was very cheerful and lively. At an early age, he also showed a great deal of love and devoutness to Jesus and the Virgin Mary. This devotion was surprising to his parents because they were not practicing Catholics at the time. Touched by Carlo's love for God, his mother Antonia decided to return to the Church and eventually became a catechist in her parish. When Carlo was six he joined the catechism class of his mother. The priest in charge of catechism met Carlo and examined his progress in the class. The priest was impressed with Carlo's knowledge about the Catholic faith and decided that he was ready to make his first communion at the age of seven. After his first communion at the convent of Sant'Ambrogio ad Nemu, Carlo went to Mass religiously and prayed the rosary every single day and made the effort either before or after Mass to reflect in front of the tabernacle. He also made his confession once a week.
A NORMAL BOY
He spent his early education in Milan and his high school studies at the Istituto Leone XIII, a competitive Jesuit school. He showed remarkable intelligence and was described by his classmates as very positive and funny. Fascinated by technology, by the time he was nine, he became interested in computer programming. His mother recalls buying him college-level textbooks and he began to teach himself programming. He eventually expanded his skills to video making and animation.
He lived the life of a normal 21st-century boy. He liked to laugh and joke with his friends, played with his PlayStation, and record videos of his friends. As a young boy, he was aware of his weaknesses and made an effort to work on them.  He went to confession regularly and kept a journal of his reflections on his behavior and how he could improve himself. He once said: "What does it matter if you can win a thousand battles if you cannot win against your own corrupt passions. The real battle is within ourselves."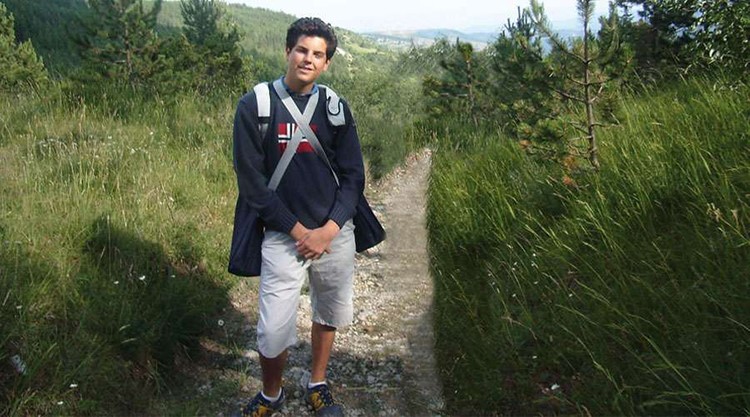 A YOUNG MAN FOR OTHERS
Carlo showed a heart for others and was always aware of other people's sufferings in his own circle. He was worried about those friends of his whose parents were divorcing and so he would invite those friends to his home to support them. He defended the rights of the disabled and defended disabled peers at school. He always tried to live in the presence of God and because of this, he had a pure and loving heart. People sensed this and were attracted to him.
In addition to his commendable prayer life he and his mother also volunteered to bring food and blankets to the homeless of Milan. He would round up his friends to help with this and other projects at his parish. Carlo received Confirmation when he was 11 years old and began helping out with catechism in his parish. He noticed that many of the children had a hard time understanding the basic concept of the Mass because their parents never took them to Church. Carlo once said: "The Eucharist is my highway to heaven." He believed that if people understood the true presence of Christ in the Eucharist and the amazing graces that we received from it their lives would be transformed
CYBER APOSTLE OF THE EUCHARIST
Realizing the need of people in the present age to know more about the Eucharist, he then began his great project to create a website featuring all the Eucharistic miracles of the world. He traveled to many of these sites and photographed them to create a virtual museum of Eucharistic miracles.
He also created a downloadable version for his site. He once said, "The more Eucharist we receive the more we become like Jesus so that on this earth we will have a foretaste of heaven."
In an interview with Vatican News, his mother said: "He was considered a computer genius …. But what did he do? He didn't use these media to chat, have fun." Instead, "his zeal for the Lord" drove him to make a website on miracles."
Cardinal Agostini Vallini also said that for Carlo "the internet was not just a means of escape, but a space for dialogue, knowledge, sharing and mutual respect that was to be used responsibly, without becoming slaves to it and rejecting digital bullying."
HIS SUFFERING AND DEATH
He was 15 when he was diagnosed with one of the worst types of leukemia – Acute Myeloid Leukemia. With his humility, he welcomed the disease and with his pain, he resolutely said: "I offer all the suffering I will have to suffer for the Lord, for the Pope, and the Church."
He prepared his parents for his death. He said to his mother: "Mama I would like to leave this hospital, but I know I will not do so alive. I will give you a sign that I am with God. I will die happy because I did not spend my life wasting my time on things not pleasing to God."
His attending physician asked him if he was suffering much pain and he responded that "there are people who suffer much more than me."
He died on 12 October 2006 and was buried in Assisi in accordance with his wishes.
His funeral was packed with friends and strangers who were all touched by the radiance of his life.
His sanctity was immediately renowned, and people began to pray for his intercession. His mother received tremendous accounts of people who received graces from God through the intercession of Carlo.
On the 4th anniversary of his death his mother gave birth to twins at the age of 44. Many considered this rare occurrence as the miracle that Carlo foretold as a sign that he had reached heaven.
Bishop Domenico Sorrentino of Assisi said of Carlo: "Carlo is a boy of our time. A boy of the internet age, and a model of holiness of the digital age, as Pope Francis presented him in his letter to young people around the world. The computer … has become a way of going through the streets of the world, like the first disciples of Jesus, to bring to hearts and homes the announcement of true peace, that which quenches the thirst for the infinite that inhabits the human heart." Carlo's beatification leaves him just one miracle away from becoming the world's first millennial saint. (Image from Vatican News)