The University of Saint Joseph (USJ) held its 2020 Congregation on Saturday, September 12th, at the Grand Hall of the Macau Tower, with a total of 372 students graduating this year.
The ceremony was officiated by the Representative of the Honorable Chief Executive of the Macau SAR Government, Ms. Ao Ieong U, Secretary for Social Affairs and Culture, with the presence of distinguished guests, including representatives of the Liaison Office of the Central People's Government in SAR, of the Higher Education Bureau (DSES), the Education and Youth Affairs Bureau (DSEJ), Diplomatic Corps accredited in Macao and Fellow from Higher Education institutions in Macao.
The Rector of USJ, Rev. Prof. Stephen Morgan conferred 4 PhD Degrees in the areas of Business Administration, Education and Science. The ceremony also saw the conferral of 76 Master Degrees, 114 Bachelor Degrees, and the award of 3 Associate Diplomas in Portuguese-Chinese Translation and 175 Post-Graduate Diplomas in Education.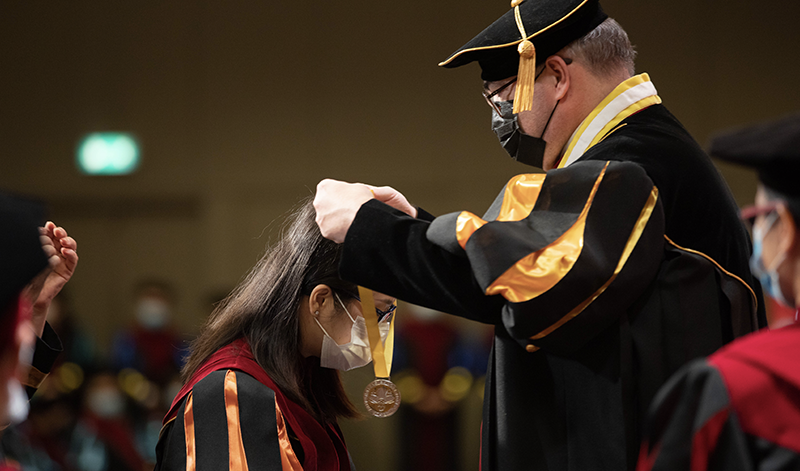 Additionally, the ceremony also saw the First Installation of the Inaugural Fellow of the Chancellor's Court of Benefactors of the University of Saint Joseph presented to Mr Lucas Lo for being a long-term committed supporter of education in Macao with a special attention to the University of Saint Joseph.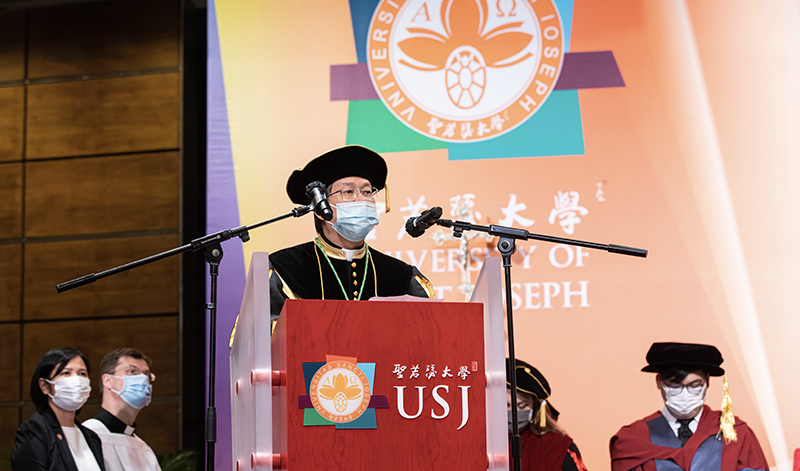 During the Ceremony, USJ Rector, Prof. Rev. Stephen Morgan, in his speech, remarked "Completing a University Degree or Diploma is always a challenge.… Doing all this against the background of COVID- 19 has made that whole process for you much, much more difficult. And yet you have done it and you've done it superbly. You have risen to this extraordinary challenge – a challenge no graduating class of students has faced in perhaps three generations – you have risen to that challenge in a manner that fills my heart fit to bursting, my heart and the hearts of all the academic and administrative staff of the University with overflowing pride.… USJ is blessed to have had you as our students."
Following the Congregation Ceremony, the Mass for the Opening of the Academic Year was celebrated on 14th September 2020 at 11:00 AM at the Ilha Verde Campus Chapel. The Mass was celebrated by USJ's Chancellor, Bishop Stephen Lee.