Melbourne, Australia
Christmas Eve carolers for Cardinal Pell gathered at Melbourne prison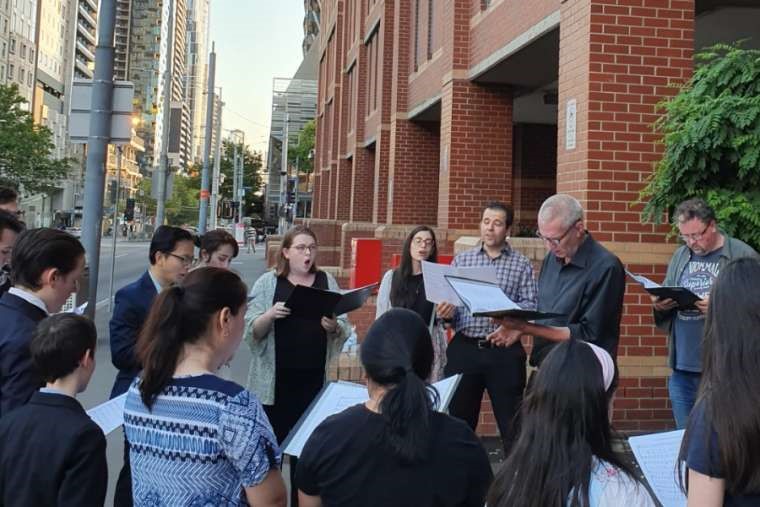 (CNA) A group of local Catholics gathered outside Melbourne prison on Christmas Eve to sing carols for Cardinal George Pell, currently incarcerated in the facility, and to pray for him, as well as the other inmates and prison staff.
At 8 pm on December 24, about two dozen local Catholics gathered outside Melbourne Assessment Prison on the west side of the city center to sing Christmas carols and to pray for the cardinal and others in the jail.
One of the singers, John McCauley told CNA that "We just wanted the Cardinal to know he was loved and remembered at Christmas." The songs included traditional carols like 'O Come All Ye Faithful' and 'Once in Royal David's City', as well as Australian favorites like 'The Three Drovers'. Singers wrote messages of support and Christmas greetings in a copy of the carol book, which was left for Pell at the prison's front desk.
After the caroling, Melbourne's Vietnamese Catholic Youth Group led a rosary procession around the perimeter of the prison, which houses more than 300 inmates. Decades of the Sorrowful Mysteries were offered for the cardinal, for the prison staff, for the other inmates, for victims of sexual abuse, and for "the vindication of the rights of the Church and His Eminence's full and speedy exoneration."
KANO, NIGERIA
7 Killed in Nigeria Jihadist Attack on Christmas Eve
(VOA News) Boko Haram jihadists have killed seven people on Christmas Eve in a raid on a Christian village near the town of Chibok in northeast Nigeria's Borno state, local militia and residents told AFP Wednesday.
Dozens of fighters driving trucks and motorcycles stormed into Kwarangulum late Tuesday, shooting fleeing residents and burning homes after looting food supplies.
Boko Haram and it's IS-affiliated Islamic State West Africa Province (ISWAP) faction have recently stepped up attacks on military and civilian targets.
"They killed seven people and abducted a teenage girl in the attack," local vigilante David Bitrus said.
"They took away food stuff and burnt many houses before leaving," he said, adding that a church was also burnt.
The jihadists were believed to have attacked from Boko Haram's nearby Sambisa forest enclave, said Chibok community leader Ayuba Alamson who confirmed the toll.
In April, Boko Haram raided Kwarangulum, 16 kilometres (10 miles) from Chibok, stealing food and burning the entire village.
Residents had managed to flee before the arrival of the jihadists following tip-off from people who saw the gunmen heading toward the village.
Chibok is the scene of the mass kidnap of 276 schoolgirls in 2014 by Boko Haram which sparked global outrage and drew international attention to the group's notoriety.
CHINA
At Least 60 Catholic Venues Shut Down in Fuzhou Archdiocese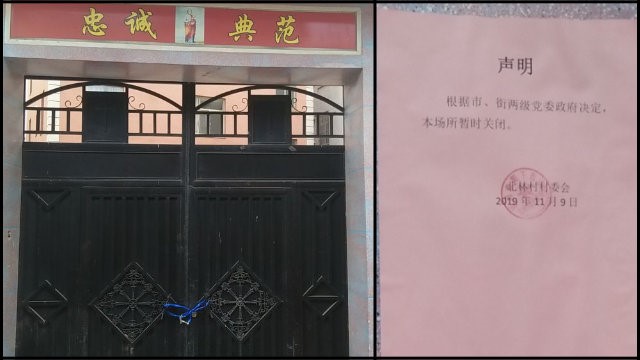 The clergy who refuse to be controlled by the state are harassed by authorities, subjected to indoctrination to make them join the Patriotic Church. At the end of October, officials closed down a Catholic church in Chengtou and installed a surveillance camera at the entrance to the venue, threatening to arrest anyone who dares to get inside.
In Longtian, a Fuqing city-administered town, local officials closed down a Catholic church, telling the congregation that Chinese people are not allowed "to believe in the Vatican's religion" because "the Chinese government does not allow them this freedom." They threatened to arrest the churchgoers should they gather to worship God again.
On October 27, more than a dozen officials from the city's Religious Affairs Bureau, Urban Management Bureau, and other government departments stormed into a Catholic church on Yuping street in Fuqing. They took photos of every corner of the church.
"Every Sunday, law enforcement officer come to surveil us, keeping watch over whether any priest comes to celebrate Mass. This is curbing the development of Catholicism," a congregation member told Bitter Winter. "There is no freedom of religion or speech in China.
The government has the final say on everything. You just have to listen and follow the Communist Party."
According to preliminary calculations, at least 60 Catholic venues have been closed in the Archdiocese of Fuzhou over the past few months, 50 of which are located in Fuqing city.
Related Posts