WIS 18:6-9; HEB 11:1-2, 8-19; LK 12:32-48
In this age of atheism and materialism, many people see faith as essentially an interior attitude that is subjective, imaginative, and psychological. It is, in a word, objectively unreal and subjectively self-deceiving. People claiming to have faith, so they say, are living in a self-invented world that does not exist. Foolish are the believers because they are dreaming their lives away.
Not so according to this Sunday's readings.
More than a subjective and self-deceiving attitude that lacks objective reality, the Christian faith is grounded on what God has done in human history and what the ancients have attested to, namely, the Passover events (cf. Wisdom 18:6) and the fulfillments of God's promises to Abraham, both immediate and remote, including Jesus' incarnation, suffering, and resurrection, and the coming of the Kingdom of Heaven (cf. Hebrews 11:8-19).
More than a mere mental conviction or a feeble hope that something will somehow become a reality, faith "is the realization of what is hoped for and evidence of things not seen" (Hebrews 11:1). In other words, faith actually "gives us even now something of the reality we are waiting for" (Benedict XVI, Spe Salvi, n.7). We are convinced that even now our faith has brought us blessings aplenty; even now we are growing in holiness and becoming more and more like Jesus due to our faith. Faith enables us to see things that are not seen in this world.
Once again, we need St. John Paul II to help us understand the supreme nobility of the act of faith: "Men and women can accomplish no more important act in their lives than the act of faith" because "it is here that freedom reaches the certainty of truth and chooses to live in that truth" (Fides et Ratio, n.13).
"Do not be afraid any longer, little flock, for your Father is pleased to give you the kingdom.
Sell your belongings and give alms," Jesus challenged his disciples to live in faith in this Sunday's gospel (Luke 12:32-33). Through the eyes of faith we see no fear. Through the eyes of faith we behold with great love each other's profound beauty as the children of God. Through the eyes of faith we set our sights on the "inexhaustible treasure in heaven" (Luke 12:33) during our pilgrimage on earth. Unfortunately, for people whose hearts are fixated only on temporal matters and pleasures, the invisible grandeur that our eyes of faith envision is always just a "dream".
---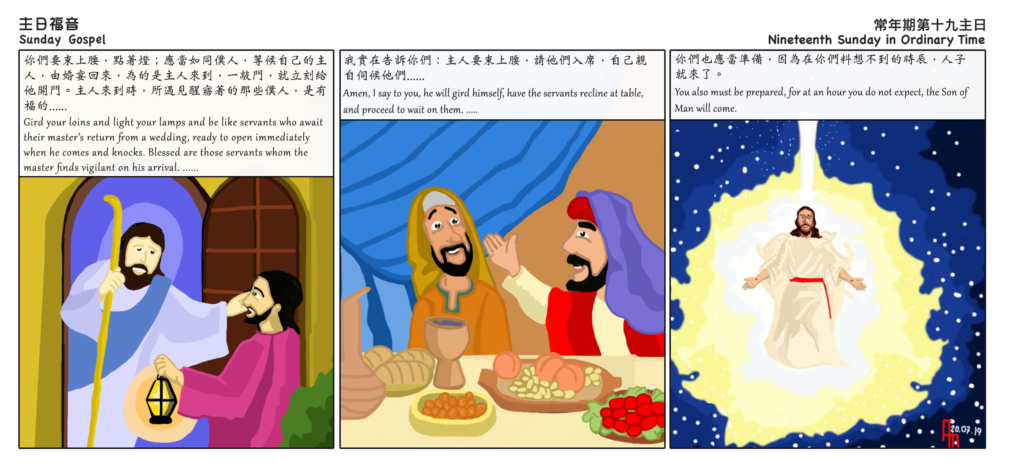 ---
BECOMING RICH BY BECOMING POOR
– Fr Fernando Armellini SCJ
Claretian Publications Macau
Today's gospel teaches us how not to get caught by surprise at the end of our lives—Jesus responds the question with three parables.
First parable. Vigilance is equivalent to the constant availability for service. The Christian does not have free moments in which he can withdraw into himself in the pursuit of self-interest, times in which he is not ready to help those who need his help.
Two images describe effectively the vigilant disciple: he dresses for action and keeps the lamp burning. He does not turn off the light, does not put on the front door the "do not disturb, I'm sleeping" sign. Anyone who needs him should know that he is always available. The disciple is therefore always on duty.
The parable ends with one of the most beautiful images of the whole Bible: blessed are those servants who, in return, the master will find watching. He will gird his clothes, will make them sit at table and wait on them. It is the promise of bliss reserved for those who are part of the kingdom of God.
The second parable. It is true that the Lord meets man at the end of life. That is certainly the most important of his comings and one needs to be prepared. However, if we observe well, death does not always behave like a thief. It typically announces its coming; it is preceded by very specific signs: old age, sickness, pain, decay.
The sudden coming of the Lord is another story. They are visits that take us by surprise like that of a thief. They are those in which he comes not to steal, but to save, to invite us to welcome the kingdom of God. The image of the thief has an undeniable intimidating tone. The aim is to warn of the danger of losing the opportunity for salvation that never arises again.
The third parable is addressed to those who in the community have been tasked with a responsibility. They are called "administrators", not masters. They have in their hands the goods that do not belong to them and of which they must render account.
Luke describes the behavior of unfaithful servants with stark realism: he speaks of idle people, who squander in revelry and carousing, using arrogant tones and behaving like despots.
The image of the lashes, which concludes the passage, underlines how despicable is the behavior of these leaders of the community. They are in the privileged position of those who knew the Lord's will better than the others and are equally unfaithful. Their responsibility is greater.
Translated by Fr John Ledesma SCJ
Abridged by Fr Jijo Kandamkulathy CMF