LUKE 11:1-13
– Fernando Armellini SCJ
Claretian Publications, Macau
No evangelist insists so much on the subject of prayer as Luke. He remembers that Jesus prayed seven times. Luke also reports five prayers of Jesus including, "Father, forgive them, for they do not know what they are doing" (Lk 23:34) and – his last words before he died – "Father, into your hands I commend my spirit" (Lk 23:46). It is enough to show that the whole life of Jesus was marked by prayer.
Jesus did not pray to ask favors, to get a discount on the difficulties of life. He did not ask God to change his plans, but to let him know what was the Father's will, in order to make it his own and fulfill it. The prayer in question is 'The Our Father.'
For Christians, God is the Father, by whom they have been thought of and loved "before being formed in secret, woven in the depths of the earth" (Ps 139:15). When they turn to him they call him Father. They appeal to him directly and with confidence. If, like the prodigal son, sometimes they turn away from him, they know they can come back and be well received.
After teaching this model Christian prayer, Jesus tells the parable of a man who, with great insistence, went to ask a friend to give him three loaves. This story intends to teach that prayer gets results only if it is prolonged. Not because God wants to be asked for a long time before granting something, but because man is slow to assimilate God's thoughts and feelings.
Our prayers seem attempts to persuade God to change his plan. We would like him to comply with our ideas, that he would correct the "mistakes" committed. If we talk with him for long  enough, we eventually understand his love and accept his designs.
Prayer does not change God; it opens our minds, changes our hearts. This inner transformation cannot be realized – except by improbable miracles – in a few moments. We are blind, we are not able (or do not like) to see. The ways of God are not always easy and pleasant; they require conversions, efforts, renouncements, sacrifices. To reach the interior adherence to the will of the Lord, to get to see with our own eyes the events of our lives we must pray …  for a long time.
The theme of the insistence in prayer is resumed through three images: to ask, to seek, to knock. Prayer always produces prodigious and unexpected results. But we should not cultivate false hopes. Outside of ourselves, the reality will remain the same as before (the disease continues, the grievance will remain, the wounds of betrayal will be painful), but inside everything will be different. If the mind and heart are no longer the same, though the look with which we contemplate our situation, the world and the brothers become different, purer, more "divine," the prayer has its result; it has been heard.
Having recovered serenity and inner peace, even the moral and psychological wounds will quickly heal and also organic diseases—why not?—may heal more easily.
Translated by Fr. John Ledesma SDB
Abridged by Fr. Jijo Kandamkulathy CMF
---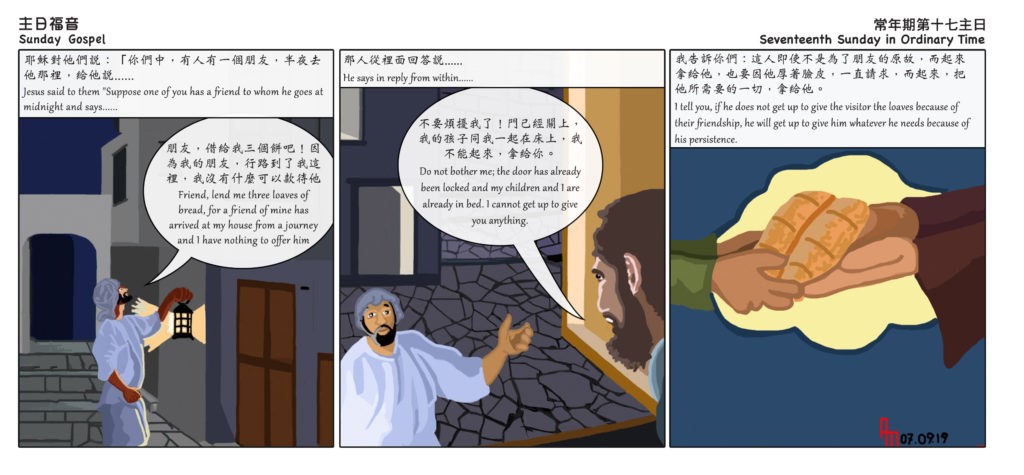 ---
The Seven Petitions –
Catechism of the Catholic Church
2803 After we have placed ourselves in the presence of God our Father to adore and to love and to bless him, the Spirit of adoption stirs up in our hearts seven petitions, seven blessings. The first three, more theological, draw us toward the glory of the Father; the last four, as ways toward him, commend our wretchedness to his grace. "Deep calls to deep."
2804 The first series of petitions carries us toward him, for his own sake: thy name, thy kingdom, thy will! It is characteristic of love to think first of the one whom we love. In none of the three petitions do we mention ourselves; the burning desire, even anguish, of the beloved Son for his Father's glory seizes us: "hallowed be thy name, thy kingdom come, thy will be done. . . . "These three supplications were already answered in the saving sacrifice of Christ, but they are henceforth directed in hope toward their final fulfillment, for God is not yet all in all.
2805 The second series of petitions unfolds with the same movement as certain Eucharistic epicleses: as an offering up of our expectations, that draws down upon itself the eyes of the Father of mercies. They go up from us and concern us from this very moment, in our present world: "give us . . . forgive us . . . lead us not . . . deliver us. . . . " The fourth and fifth petitions concern our life as such – to be fed and to be healed of sin; the last two concern our battle for the victory of life – that battle of prayer.
2806 By the three first petitions, we are strengthened in faith, filled with hope, and set aflame by charity. Being creatures and still sinners, we have to petition for us, for that "us" bound by the world and history, which we offer to the boundless love of God. For through the name of his Christ and the reign of his Holy Spirit, our Father accomplishes his plan of salvation, for us and for the whole world.