– Miguel Augusto
Recently the universal Church celebrated St Josemaría Escrivá, Founder of Opus Dei. In Macau, on June 26, our bishop D. Stephen Lee invited the community to join the festive Eucharistic celebration at the Sé Cathedral church. Opus Dei, being the only prelature within the Church, is sometimes little known. For anyone who wishes to know it more, we suggest one explanation offered by the internationally known theologian Dr Scott Hahn. Following is an account of a conversation held in a podcast of the Catholic project "Discerning Hearts" between Scott Hahn and the couple Bruce McGregor and Kris McGregor about Hahn's book – Ordinary Work, Extraordinary Grace in which he tells us about his spiritual journey in Opus Dei.
Kris McGregor began by personally thanking Scott Hahn for writing Ordinary Work, Extraordinary Grace, a deeply personal sharing of about a pivotal time in Hahn's spiritual life. "I'm kind of curious why so many people have had a suspicion about Opus Dei because when I read the writings of St Josemaría, they are just so wonderful and so life-giving, transformative, that I just don't understand why anybody would have concerns."
Scott Hahn replied, "Indeed, that's exactly what Opus Dei had been for me and writing that book has also proven to be." 
Hahn recalled that Opus Dei was founded back in 1928 by St Josemaría Escrivá, and in his words, it was a way of sanctification in daily work and in the fulfilment of Christians ordinary duties. Hahn added, "it is by its very nature something that is not going to be calling attention to itself, it is going to really work for the purpose of sanctifying us in just the ordinary tasks of everyday life."
Hahn stressed that, in fact, it is the Church's first and currently only personal prelature. "It's established so that ordinary lay people all around the world regardless of any geographic boundaries or diocesan borders can really get the sort of the spiritual direction that will enable us to become saints in the middle of the world, contemplatives on the mainstream."
Hahn continues, saying that God our Father, He isn't just creating galaxies and maintaining the Cosmos. "He is concerned about little things. He creates the galaxy out of subatomic particles and He holds it all together, not just the big grand universe, but even the little things." To Hahn this is how we get to imitate God our Father, "by the way we apply ourselves to the tasks that are at hand, no matter how menial they seem."
I am so grateful to St Josemaría, added Scott Hahn, saying he had not written the book to kind of hold himself up as an example or a paradigm, but to express his own gratitude to Our Lord and to Opus Dei. Adding "because I have found so much grace, and I know so many other people who have found it too."
Hahn reminded us that St Josemaría, from the very early years of his priesthood, was open to a calling that was still unknown, and every step of the way, he was just kind of stepping out into darkness, and experienced a divine light.
One of my favourite stories, Hahn continued, is how St Josemaría  was in a streetcar in Madrid and was overcome by the reality of God's fatherhood and is own gift of divine sonship. "He then start praying out loud: 'Abba father, Abba father'. This ends up being the very content, the substance, of what he was called to." Scott Hahn tells us that it was not something that he newly received and consented to, but something he grew into, "and that to me is a reassurance. So often I feel unworthy to be a child of God, I feel unworthy to receive the Holy Eucharist, I feel unworthy to receive the vocation to Opus Dei, and yet, if the Founder himself shows me, that was something that God grace enabled him to grow into, so I can be patient with my own weaknesses also."
Kris McGregor asked Scott Hahn to speak about divine filiation as the foundation of the spirituality of Opus Dei "because I think its something we might have lost."
For Hahn, the reason we are children of God is not just because God adopted us in some sort of generic sense. It's because "He has given us to share, very concretely and specifically in Christ's own divine sonship. That is a supernatural mystery, but it is a substantial reality." It is the core of what it means to be a Christian, added Hahn, "but unfortunately many people have lost it, or at least sort of neglected it."
Moreover, he said, "What I think St Josemaría did in enshrining divine filiation at the very center of our faith and at the core of our daily life, was just to remind us that: wherever we live, whenever we get up in the morning, whenever we go to our breakfast and go off to work, we are always children of God. We are not what we feel ourselves to be, we are not what other people take us to be. We are what Almighty God sees us to be, and that is His own sons and daughters who share Christ's own divine sonship."
"I love the quote you have from Madre Teresa: 'God doesn't ask us to be successful just faithful'" said Kris McGregor and she reminded us about a thought from Opus Dei founder: "St Josemaría said the Church is present wherever there's a Christian who strives to live in the name of Christ."
Ambition for holiness, added Hahn, is something that one hears about in Opus Dei and that is applied to different areas of life. "Because it also applies not only to your life, into your everyday work, but your apostolic aspirations as well." Hahn believes that ordinary Catholics, every baptized lay person is called to become a saint, to be a contemplative in the middle of the world, "consecrating whatever we are doing for the Glory of God."
Bruce McGregor requested Hahn to talk a little bit about the marriage vocation. "Really it isn't just satisfaction for the heart and senses. There is also suffering. They are like the two sides of a coin."
Hahn recalled that St Josemaría Escrivá shocked a lot of people when he referred to the marriage bed as an altar. "I remember when I first came across I wondered if it was a typo. And I asked somebody, and they say '– Oh no, you're not the first person to wonder.' But, of course, the marriage bed is the place where the covenant is renewed. And there is where you are to love in a way that is truly life-giving. And it's a sacrifice; it's not just an act of pleasure. Its an act of self-giving. Marriage is our vocation to Heaven."
Hahn said he remembers once seeing a video were a man was asking St Josemaría for a little bit of help for his vocation, "he wasn't sure if he was called to be a Supernumerary member of Opus Dei or not, and St Josemaría just sort of interrupted him and said: 'Are you married?' And he says yes. St Josemaría asked him: 'What's your wife's name?' And the man gives the wife's name. St Josemaría said: 'Your vocation has a name.'" Hahn points out that what St Josemaría did was to impress upon this man that besides thinking and praying and discerning the big issues about spiritual things like a vocation "you've got to recognize that your marriage is not only a sacrament.  It's a binding reality; it is the context in which you are going to become a saint and help her to become one also."
Kris McGregor inquired: "St Josemaría actually merged his name:  he was originally José Maria, but then it became Josemaría, Joseph and Mary, the parents of Jesus in the earth."
"Isn't that beautiful!" sad Scott Hahn. "I am also grateful for the fact that there's such an important place for lay people, Supernumeraries, married people who don't make the commitment to celibacy. And I am grateful for the Numeraries who do make that commitment (celibacy), because I have experienced how they are more available for the kind of dedicated apostolic work that our spiritual direction requires, but most Supernumeraries like me are married." Hahn mentioned that his primary apostolate is with his family and then in widening circles beyond his home.
"This vision of a tribe within the church, that extends beyond the dioceses and boundaries that wouldn't be a monastic community, I just think this was itself a divine inspiration," concluded Scott Hahn.
ABOUT THE BOOK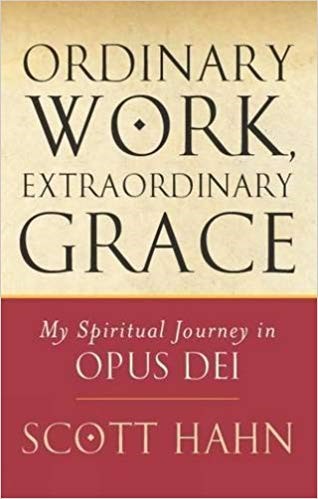 In Ordinary Work, Extraordinary Grace: My Spiritual Journey in Opus Dei, Scott Hahn offers the reader a deeply personal introduction to the biblical theology and spirituality of Opus Dei.
Two of several reviews on the book – "If you want the real story about Opus Dei, Scott Hahn will give you the shocking truth – the shock of a Gospel life lived effectively in the midst of the world. Like all his other books, this one will challenge your view of the Christian life." Father Benedict J. Groeshcel, C.F.R., author of Arise From Darkness.
"Scott Hahn's abilities as a scholar, teacher, and writer are already well known. But the story of his journey to Opus Dei that emerges here, and his portrait of The Work remind us that each of us, no matter what our vocation or state of life, is called to holiness. This is compelling reading." Charles J. Chaput, O.F.M. Cap., Archbishop of Denver.
ABOUT THE AUTHOR
Scott Hahn is a professor of theology and Scripture at the Franciscan University of Steubenville and holds the Pope Benedict XVI Chair of Biblical Theology and Liturgical Proclamation at Saint Vincent Seminary. He is the author of many books, including The Lamb's Supper; Hail, Holy Queen; Swear to God; Understanding the Scriptures and A Father Who Keeps His Promises. He lives in Steubenville, Ohio.
He is the Founder and President of the St Paul Center, an apostolate dedicated to teaching Catholics to read Scripture from the heart of the Church.
Over the last three decades, Dr. Hahn has delivered thousands of popular talks and academic lectures, nationally and internationally, on a wide range of topics related to Scripture, Theology, and the Catholic faith.