Genesis 18.1-10a; Colossians 1:24-28; Luke 10:38-42 
This Sunday's Gospel Reading about the familiar story of Mary and Martha reminds me of a very inspiring homily I heard recently about service. In life, we serve, we serve our family, our next door neighbor, our parishioners, our co-workers and we serve the least of our brothers and sisters. We serve God and we serve one another. As a Catholic, we must serve with a heart of faith, we must help others encounter Christ, the priest said.
While Martha was busy and preoccupied with the tasks of welcoming Jesus into her home, her sister Mary sat at the Lord's feet and listened to what he was saying. When Martha asked Jesus to tell Mary to help her with her tasks, Jesus said that Mary had chosen the better part which was to listen to His teaching. 
Reflecting upon ourselves, are we like Martha who was distracted with welcoming Jesus into her home, or are we like Mary who was focused on listening to Jesus' teaching?  More often than not, we see more Martha in ourselves than Mary. Whatever we do, we tend to focus on the outcome, an outcome that meets worldly expectations, or better, an outcome that exceeds worldly expectations. Always, we are busy and overwhelmed and we multi-task and juggle to complete the tasks in our daily schedule. We are so mindful of our own expectations and expectations that others have on us that we may sometimes forget that we are Catholics, we are disciples of Jesus. Whatever we do in our family, in work and in Church, we must do it not for our own personal satisfaction but for Jesus. Jesus is the reason for our service.
---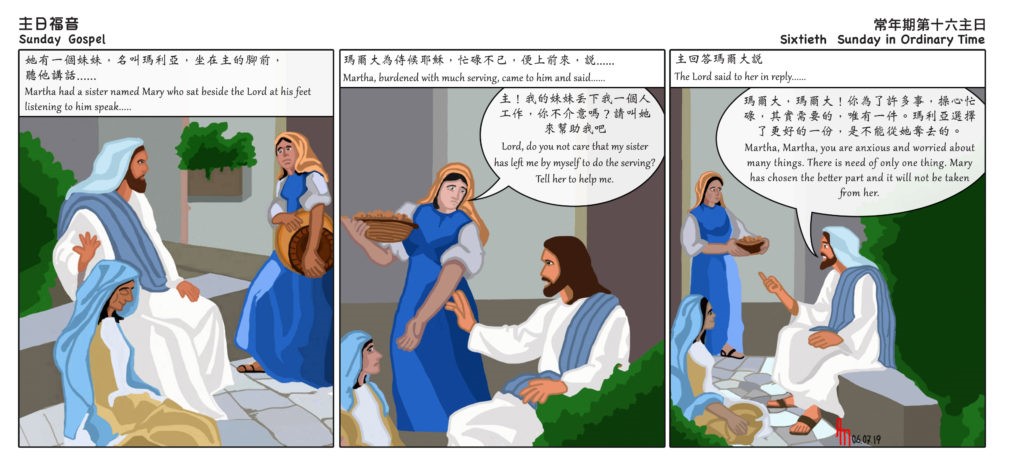 ---
Christ the Guest, but not for one day
– Fr

 

Fernando Armellini SCJ
Claretian Publications, Macau
This passage often brings displeasure and frown on the faces of the hardworking people. Some cite this to demonstrate the superiority of the contemplative over active life. It says that the nuns and the monks – who in the peace of their cloisters spend their lives reciting prayers – have chosen the better part. The diocesan priests instead, absorbed by many parish activities and lay people who are dedicated to charitable works, even if they perform sacrifices and renunciations, would be less spiritually perfect.
If the question is posed in terms of reproach to those who work and praise of the idle it is difficult to agree with Jesus. But is this what he means? It should be noted that Martha is not reprimanded because she works, but because she is agitated, anxious, worried. She is troubled about so many things, and above all, because she is committed to work without having first heard the Word.
 Mary is praised, it is true, but not because she is a slacker, pretending not to notice the work in the kitchen. He just says that the most important thing, to which priority should be given – if we do not want to reduce our business to agitation – is listening to the Word.
Luke mentions this incident as a lesson of catechesis to Christian communities of the past and of today. He knows that in them there are many people of good will, many disciples dedicate themselves to the service of Christ and the brothers and sisters. They are generous of their time, effort and money. Yet even in this intense and generous activity there lurks a danger: that much feverish work is separated from hearing the word, and becomes anxiety, confusion, nervousness, just like that of Martha. Even the apostolic commitment, communitarian choices, pastoral projects not guided by the Word are reduced to vain noises, broken stirring of pots and ladles.
Throughout the story Mary does not say a word, not even to defend herself, to clarify her position or explain her choice. She is silent and it leads to suppose that her silence—a sign of meditation and internalization of the Word—is prolonged even beyond.
One can imagine from the unfinished writing of this anecdote that it is Martha who now needs to sit at the feet of Jesus to listen to and recover the calm, the serenity and inner peace. While Jesus and Martha continue to talk, I imagine Mary who, deep in thought, quiet and happy, puts on her apron and takes her sister's place in the kitchen.
Whoever listens to Christ does not forget the commitment to people: s/he learns to do it the right way… without agitation.
Translated by Fr John Ledesma SDB
Abridged by Fr Jijo Kandamkulathy CMF