– Tej Francis
BEIJING, CHINA
CHINESE OFFICIALS CRACK DOWN ON RELIGIOUS FUNERALS, WEDDINGS
(CNA) As the Communist Party of China continues to tighten its grip on the regulation of religion and religious activity, a human rights group is reporting that officials are disrupting religious rites and ceremonies such as funerals and weddings that take place outside of church buildings.Bitter Winter, a magazine documenting human rights and religious freedom abuses in China, reported that attendees of such ceremonies have been threatened with investigation and jail, and in some cases have been arrested and detained for more than two weeks at a time.The crackdowns are part of the government's campaign to "sinicize" religion, bringing it into unity with Communist Chinese culture.  The report comes just five days after Chris Smith (R-NJ), co-chair of the Tom Lantos Human Rights Commission, told a congressional hearing that the state of religious freedom in China has "never been worse than it is right now."
The crackdowns on religious ceremonies are just the latest in a long list of reported abuses against religious freedom in the country. Chinese government officials have also set up mass internment camps for Uyghur Muslims, and have destroyed churches, burned down crosses, restricted religious expression online, and have attempted to re-write the Bible so that its message is more in line with the Communist party, among other abuses, officials have reported.Last week, the Vatican issued new guidelines on the government's requirement of registration for church clergy. The Vatican said it respected the judgement of Chinese Catholic clergy in whether or not they wanted to add their names to the registry. Registration allows clerics to practice their ministry freely, but it also means that they acknowledge the government's efforts to "sinicize" religion.
DETROIT, MICHIGAN
'PRIESTS IN THE PARK' OFFER PUBLIC WITNESS OF CONFESSION, CATHOLICISM IN MICHIGAN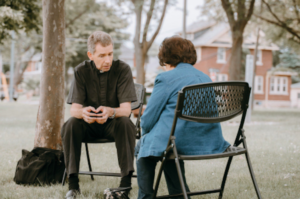 (CNA) Dog walkers, bike riders, joggers, and Catholics priests hearing confession – most of these things you can find in any given park on any given summer day. But one of these things is not like the others.In St. Mary's park in Monroe, Michigan, passers-by and street traffic looked on with a befuddled look on their faces on June 17, while four Catholic priests, cleric-clad with stoles draped over their shoulders, heard the confessions of roughly a few dozen penitents over the course of two hours.It was the second such "Priests in the Park" event for the 20,000-person community located 25 miles south of Detroit."My goal was to really magnify this awesome sacrament that the Catholic Church has, and put it out in public," Joe Boggs, one of the organizers of the event, told CNA.
Boggs is the Evangelization committee chair for the Monroe Vicariate, a regional group of Catholic churches that fall under the Archdiocese of Detroit. Boggs said he got the idea for a "Priests in the Park" event from an article in The Michigan Catholic about a similar event held in Plymouth, Michigan a couple of years ago."I said man, this is a great idea, let's kind of blow this up, put it on steroids, and we'll see what happens."The Vicariate hosted its first "Priests in the Park" event in May, which was strictly priests hearing confessions in the park. For the June event, they added a Catholic speaker, some professional musicians, and a booth with holy cards, saint medals and other information about the Catholic faith.They were also joined by members of St. Paul's Street Evangelization ministry, who spoke to any curious bystanders and helped explain the event and the Catholic faith.Boggs said they received a lot of positive feedback about the event from both Catholics and non-Catholics.
ROME
HOW LONG CAN IRAQI CHRISTIANS LAST?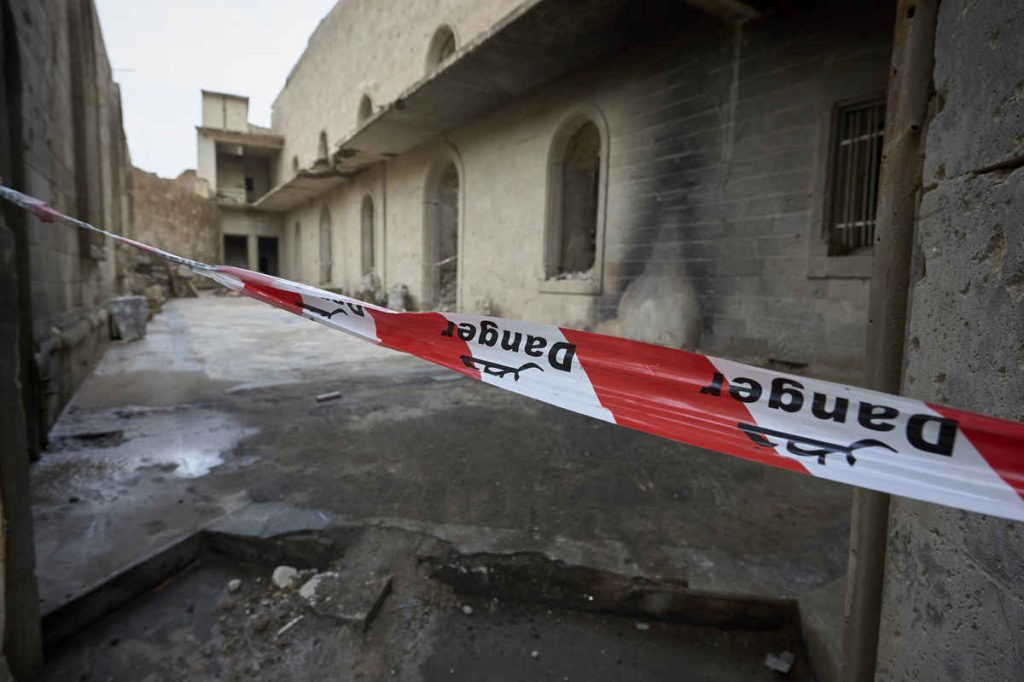 (Crux) Recently Archbishop Najib Mikhael Moussa of Mosul, appointed by Pope Francis in 2018, conceded that very few Christians are actually returning to the battered city of Mosul. Moussa told EuroNews that only about 30 Christian families, just 10 percent of the pre-ISIS Christian population of the city, have come back, due both to security fears and to the lack of economic opportunities.  Recently, a contact in Iraq who facilitated our travel a year ago said Harris was lucky to have seen Mosul when she did, because he definitely wouldn't recommend such a trip today. "The power of the militias is growing all the time," he said, referring to Kurdish and Iranian-backed armed groups who often serve as the de facto governments in some parts of northern Iraq.
In several traditionally Christian villages of the Nineveh Plains — such as Telesqof, where rebuilding has been financed by the government of Hungary, and Karemlesh, where support has come from the Knights of Columbus — things look better, as a significant share of Christian homes have already been restored and a higher percentage of the pre-ISIS population has returned. Even in those relatively secure enclaves, however, things still feel fragile and tenuous and fear is a daily reality. When we asked a year ago if people were confident, they'd still be in those villages 10 years from now, or if a new wave of violence could still drive them out, virtually no one was willing to say they felt sure.
Related Posts