Acts 13:14, 43-52; Revelation 7:9, 14b-17; John 10:27-30
Salvation and eternal life are for those who "continue in the grace of God." (First reading, Acts 13:43) The good news is that salvation has no bounds. It is to be brought "to the ends of the earth" (Acts 13:47). But for those of us who believe and are continuing in the grace of God, will our earthly journey be easy and smooth? Not necessarily so. As we can see from the example of Paul and Barnabas, they were abused, contradicted (Acts 13:45) driven away and persecuted (Acts 13:50) while evangelizing and doing God's work.
We strive to be good people, but there is no guarantee that bad things will not happen to good people. Then why must we make attaining eternal life our mission and goal in our earthly journey?  Why don't we just give in to worldly riches and pleasures, instead of living out the teachings of Jesus which is not easy and may even result in us being ridiculed or ignored to say the least?  Because of Jesus' promise of eternal life to us, (Gospel Reading Jn 10:28) we must continue in the grace of God (Acts 13:43). If we are willing to see beyond the world that we live in and follow Jesus, listen to his words, we will have eternal life. We will "hunger no more, and thirst no more;" and "he will guide them to springs of the water of life, and God will wipe away every tear from their eyes." (Second Reading Rev 7:16-17) If more people will live out the teachings of Jesus, our world will become a better place for everyone too.
In the chaos of the present day when morals and ethics are challenged and even life itself is given a meaning contrary to our Catholic faith, let us not be disheartened or discouraged even when our effort to live out the Gospel fails to bear fruit. We must find courage and strength in Jesus' promise of eternal life. We must carry on with hope, "… the sorrows of our daily lives may never dim our hope of life beyond death." ("The Way of the Cross with Pope Francis" CNEWA Canada 2015) This message of hope is especially meaningful in the Easter season, which is a season of hope. For our Lord who is risen has brought us salvation!
---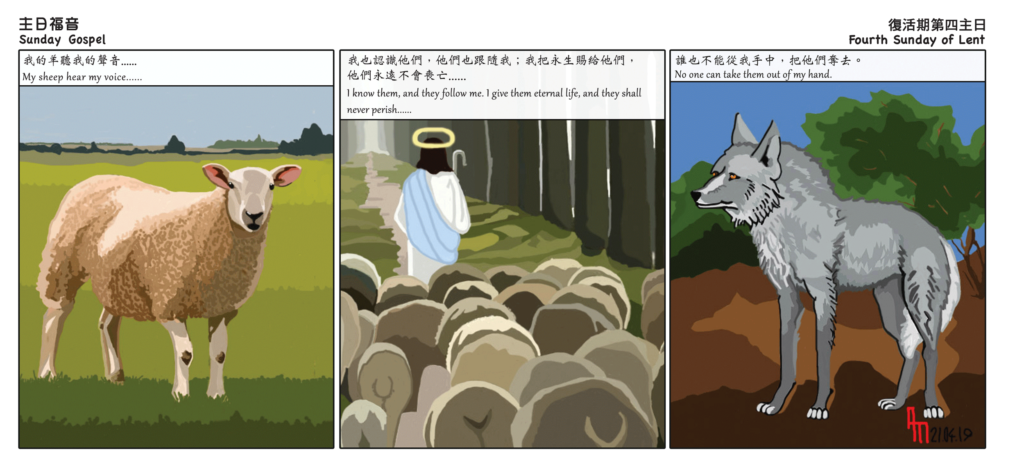 ---
THE GOOD SHEPHERD
– Fernando Armellini SCJ
Claretian Publications, Macau
The first image of the Good Shepherd in our mind is that of the Master who holds a lamb in his arms or on the shoulders. It is true: Jesus is the good shepherd who goes out of his way to search for the lost sheep, an image from the Gospel of Luke (15:4-8). The good shepherd that John speaks of is not this sweet and tender image but the hard, strong man, determined to fight the bandits and the ferocious animals, as what David did by chasing the lion and the bear that tore a sheep away from the flock; he knocked them down and plucked the victim from their mouth (1 Sam 17:34-35).
My sheep – Jesus says – they shall never perish; no one will ever steal them from me. Their salvation is not guaranteed by their docility, their loyalty, but by his initiative, his courage, his gratuitous and unconditional love. This is the beautiful news that Easter announces and what a Christian believer must communicate to every person. Even to those who have it all wrong in life he must ensure: your miseries, your shortcomings, your choices of death will not be able to defeat the love of Christ.
Today's Gospel says that it is not we who take the initiative to follow him. He is the one who calls: "My sheep hear my voice and I know them and they follow me."
The disciples of Jesus live in this world, living among people. They hear so many calls and receive even misleading messages. There are many who pose as shepherds, that promise life, well-being, happiness and invite people to follow them. It is easy to be deceived by charlatans. Amidst many voices, how can one recognize the voice of the true Shepherd? It is necessary to accustom the ear. He who hears a person only for five minutes, and then for a year does not hear him at all, will find it difficult to distinguish his voice in the crowd.
It is not easy to trust Jesus because he does not promise success, triumphs, victories, as do all the other shepherds. He asks for the gift of self, demands the renunciation of seeking one's own advantage, demands the sacrifice of life. And yet – he assures – this is the only path that leads to eternal life. There are no shortcuts; who indicates other paths is cheating and leads to death.
Translated by Fr. John Ledesma SDB
Abridged by Fr. Thomas Thennedyil CMF