Sir 27:4-7; 1 Cor 15:54-58; Lk 6:39-45
– John Paul II
In different parts of the world there is a great neglect of the Sacrament of Penance. This is sometimes linked to an obscuring of the religious and moral conscience, a loss of the sense of sin, or a lack of adequate instruction on the importance of this sacrament in the life of Christ's Church. At times the neglect occurs because we fail to take seriously our lack of love and justice, and God's corresponding offer of reconciling mercy. Sometimes there is a hesitation or an unwillingness to accept maturely and responsibly the consequences of the objective truths of faith. For these reasons it is necessary to emphasize once again that "with regard to the substance of the sacrament there has always remained firm and unchanged in the consciousness of the Church the certainty that, by the will of Christ, forgiveness is offered to each individual by means of sacramental absolution given by the ministers of Penance" (John Paul II, Reconciliatio et Paenitentia, 30).
Again I ask all my brother bishops and priests to do everything possible to make the administration of this sacrament a primary aspect of their service to God's people. There can be no substitute for the means of grace which Christ himself has placed in our hands. The Second Vatican Council never intended that this Sacrament of Penance be less practiced; what the Council expressly asked for was that the faithful might more easily understand the sacramental signs and more eagerly and frequently have recourse to the sacraments (cf Sacrosanctum Concilium, 59). And just as sin deeply touches the individual conscience, so we understand why the absolution of sins must be individual and not collective, except in extraordinary circumstances as approved by the Church….
To those who have been far away from the Sacrament of Reconciliation and forgiving Love I make this appeal: come back to this source of grace; do not be afraid! Christ himself is waiting for you. He will heal you, and you will be at peace with God!
To all the young people of the Church, I extend a special invitation to receive Christ's forgiveness and his strength in the Sacrament of Penance. It is a mark of greatness to be able to say: I have made a mistake: I have sinned, Father; I am sorry; I ask for pardon; I will try again, because I rely on your strength and I believe in your love. And I know that the power of your Sons' Paschal Mystery – the Death and Resurrection of our Lord Jesus Christ – is greater than my weaknesses and all the sins of the world. I will come and confess my sins and be healed, and I will live in your love!
(Homily, San Antonio, Texas, 13 September 1987)
---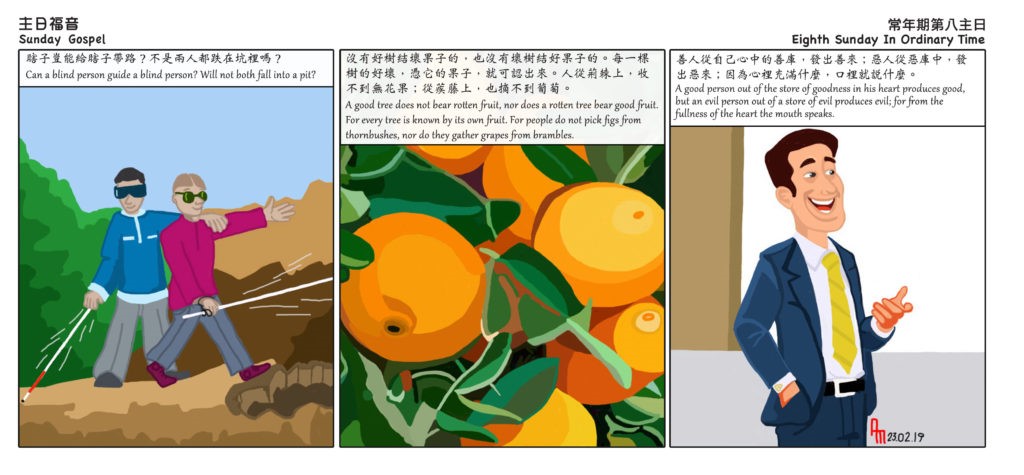 ---
THERE IS ONLY ONE MASTER
– Fr Fernando Armellini SCJ
Claretian Publications, Macau
Today's Gospel starts with a well-known proverb: "Can a blind person lead another blind person?"
When the disciples told Jesus that the Pharisees were offended by his words he responds: "Pay no attention to them! They are blind leading the blind" (Mt 15:14). In today's passage the recipients of the Lord's dramatic warning are, however, neither the Pharisees nor the Jews, but the disciples themselves. Even for them, there is a danger of acting like blind guides.  They lead themselves and others into errors.
False Christian teachers can commit another error of believing that everything they think, say and do is wise, just and in conformity with the Gospel. They issue instructions in the name of Christ, with such security as to give the impression that they substituted the Master or are superior. They demand titles, privileges, honors, powers that even the Master never claims to have.
To them, Jesus recalls another proverb: "A disciple is not above his master, but when fully trained he will be like his master."
Jesus warns us the danger of identifying our own ideas, beliefs, projects with God's thoughts. It is a reckless presumption and thoughtless behave like masters when we are only mere disciples.
It is not over. These false teachers claim to themselves a right even more exorbitant than the above; they do something that Jesus himself never wanted to do (Jn 3:17): they judge, pronounce sentences against the brothers. For them, the parable of the speck and the log is told (vv. 41-42). 
It is an invitation to be wary of Christians who feel always right, always sure of what they say, teach and do. They do not realize that they have before in their eyes huge logs that prevent them from seeing the light. Which ones? Passions, envy, desire to rule over others, ignorance, fear, psychological disorders from which no mortal is completely exempted. All these are big "beams" that prevent us from clearly grasping the demands of the word of God. We must take this into account and act humbly in a less presumptuous way, be less strict in imposing our vision of reality and less confident judging the others' performance.
Jesus wants that the Christian proposal be made with great humility, with great discretion and respect and, above all, never judging those who cannot understand it, those who do not feel like accepting it. The possibility of having a log in front of the eyes is not remote and must not be forgotten!
Translated by Fr John Ledesma SDB
Abridged by Fr Jijo Kandamkulathy CMF