1 Sam 16:2,7-9,12-13.22-23; 1 Cor 15:45-49; Lk 6:27-38
– Pope Francis
We can ask: What keeps us united? Why are we united? What prompts us to encounter each other? The certainty of knowing that we have been loved with a profound love that we neither can nor want to keep quiet about a love that challenges us to respond in the same way: with love. It is the love of Christ that urges us on (cf 2 Cor 5:14).
A love that does not overwhelm or oppress, cast aside or reduce to silence, humiliate or domineer. It is the love of the Lord, a daily, discreet and respectful love; a love that is free and freeing, a love that heals and raises up. The love of the Lord has to do more with raising up than knocking down, with reconciling than forbidding, with offering new changes than condemning, with the future than the past. It is the quiet love of a hand outstretched to serve, a commitment that draws no attention to itself.
Do you believe in this love? Is it a love that makes sense?
This is the same question and invitation that was addressed to Mary. The angel asked her if she wanted to bear this dream in her womb and give it life, to make it take flesh. She answered: "Behold, I am the handmaid of the Lord; let it be to me according to your word" (Lk 1:38). Mary found the courage to say "yes." She found the strength to give life to God's dream. The angel is asking the same thing of each of you, and of me. Do you want this dream to come alive? Do you want to make it take flesh with your hands, with your feet, with your gaze, with your heart? Do you want the Father's love to open new horizons for you and bring you along paths never imagined or hoped for, dreamed or expected, making our hearts rejoice, sing and dance?
Do we have the courage to say to the angel, as Mary did: Behold the servants of the Lord; let it be done?
Dear young friends, the most hope-filled result of this Day will not be a final document, a joint letter or a programme to be carried out. The most hope-filled result of this meeting will be your faces and a prayer. Each of you will return home with the new strength born of every encounter with others and with the Lord. You will return home filled with the Holy Spirit, so that you can cherish and keep alive the dream that makes us brothers and sisters, and that we must not let grow cold in the heart of our world. Wherever we may be and whatever we may do, we can always look up and say, "Lord, teach me to love as you have loved us." Will you repeat those words with me? "Lord, teach me to love as you have loved us."
(Opening Ceremony Speech, World Youth Day 2019, Panama)
---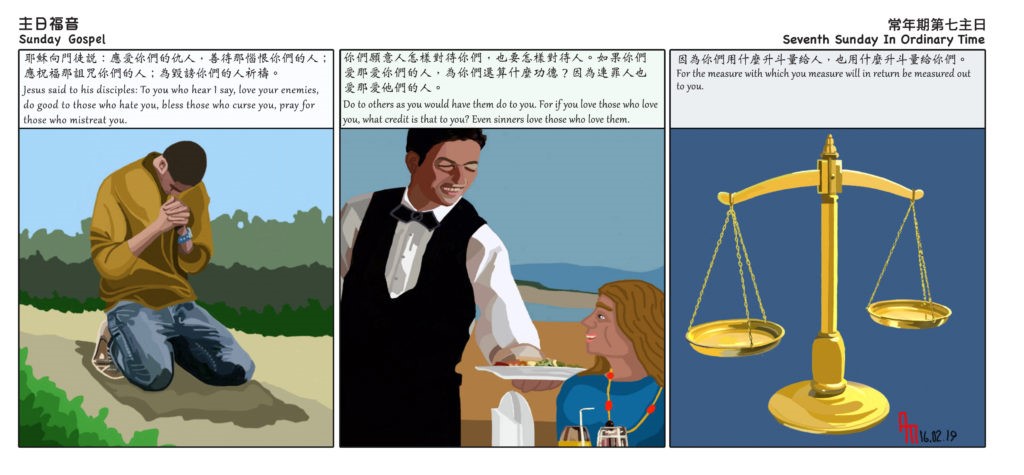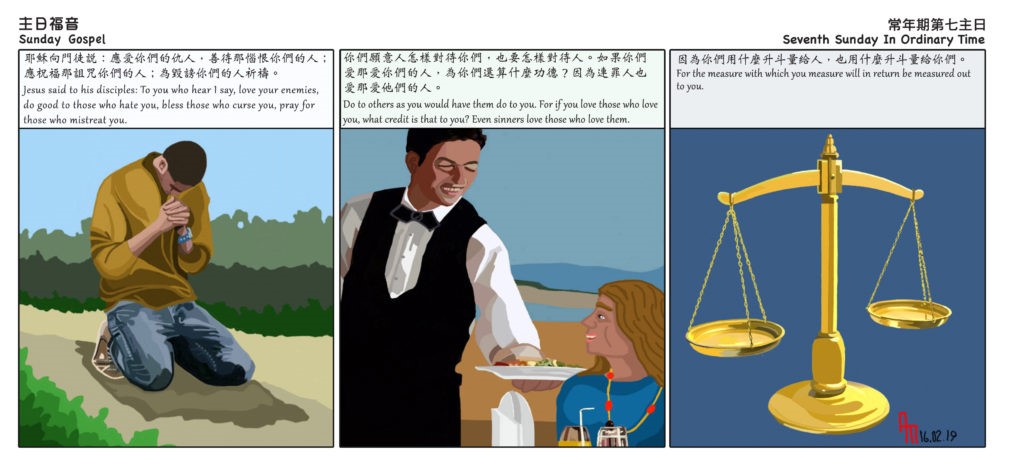 ---
Fighting evil with love
– Fr Fernando Armellini SCJ
Claretian Publications, Macau
Jesus challenges the crowd listening to him: "Love your enemies, do good to those who hate you, and pray for those who treat you badly." Four imperatives — love, do good, bless, pray — that do not leave any doubt about how a Christian should behave in the face of evil. They are the unequivocal evidence that Jesus rejects, in the strongest terms, the use of violence.
Against the guilty, we react instinctively with aggression. We believe that "making him pay," justice is restored and everyone is given a lesson in life. Jesus does not agree with such hasty solutions. He repudiates the use of violence because this never improves the situation. It complicates it even more and does not help the wicked to become better. It crushes him, triggers the hatred, awakens the desire for revenge and vengeance. Violence may be able to eliminate it, but not to save it. The only attitude that creates the new is love.
Jesus does not demand that we become friends of those who do us harm. Not even he felt sympathy for Annas and Caiaphas, the Pharisees, for Herod that he dubbed "fox" (Lk 13:32), for Herodias who had the Baptist killed (Mk 6:14-29). Sympathy is beyond our control; it cannot be ordered, it spontaneously arises between people who respect each other, who are attuned each other.
The Master asks to love, that is not to look to one's own rights, but to the needs of the other. It is not enough not to respond to evil with evil, with insult to injury. One has to keep oneself on hand to accept others. It is a must to always make the first step to reach out to those who did wrong, to help them get out of their plight.
It is not easy. That is why prayer is recommended. Only prayer puts off aggression, disarms the heart, communicates the feelings of the Father who is in heaven, gives the strength that comes from God's love. Prayer for the enemy is the high point of love because it presupposes a heart willing to be purified from all forms of hatred. When one puts oneself before God he or she cannot lie. One can only ask him to fill with good those who do evil; and when one manages to pray like this, the heart becomes attuned with the heart of the Father who is in heaven, "who makes his sun rise on both the wicked and the good, and he gives rain to both the just and the unjust" (Mt 5:45).
Translated by Fr. John Ledesma SDB
Abridged by Fr. Jijo Kandamkulathy CMF