Jer 17:5-8; 1 Cor 15:12, 16-20; Lk 6:17, 20-26
Pope Francis
MOST ENLIGHTENING
… Nothing is more enlightening than turning to Jesus' words and seeing His way of teaching the truth. Jesus explained with great simplicity what it means to be holy when He gave us the Beatitudes (cf Mt 5:3-12; Lk 6:20-23). (63)
IDENTITY CARD
The Beatitudes are like a Christian's identity card. So if anyone asks: "What must one do to be a good Christian?", the answer is clear. We have to do, each in our own way, what Jesus told us in the Sermon on the Mount… In the Beatitudes, we find a portrait of the Master, which we are called to reflect in our daily lives. (63)
"TRUE HAPPINESS"
The word "happy" or "blessed" thus becomes a synonym for "holy". It expresses the fact that those faithful to God and His word, by their self-giving gain true happiness. (64)
THE POWER OF THE SPIRIT
The Beatitudes are in no way trite or undemanding, quite the opposite… We can only practice them if the Holy Spirit fills us with His power and frees us from our weakness, our selfishness, our complacency and our pride. (65)
LISTEN TO JESUS
Let us listen once more to Jesus, with all the love and respect that the Master deserves. Let us allow His words to unsettle us, to challenge us and to demand a real change in the way we live. Otherwise, holiness will remain no more than an empty word. (66)
THE WORKS OF MERCY
Those who really wish to give glory to God by their lives, who truly long to grow in holiness, are called to be single-minded and tenacious in their practice of the works of mercy. (107)
A SIMPLE LIFE
… We will find it hard to feel and show any real concern for those in need, unless we are able to cultivate a certain simplicity of life, resisting the feverish demands of a consumer society, which leaves us impoverished and unsatisfied, anxious to have it all now… When we allow ourselves to be caught up in superficial information, instant communication and virtual reality, we can waste precious time and become indifferent to the suffering flesh of our brothers and sisters. Yet even amid this whirlwind of activity, the Gospel continues to resound , offering us the promise of a different life, a healthier and happier life. (108)
"POWERFUL WITNESS"
The powerful witness of the saints is revealed in their lives, shaped by the Beatitudes and the criterion of the final judgment. Jesus' words are few and straightforward, yet practical and valid for everyone… I recommend rereading these great biblical texts frequently, referring back to them, praying with them, trying to embody them. They will benefit us; they will make us genuinely happy. (109)
(Source: Apostolic exhortation, Guadete et exsultate, March 19, 2018. Extract by Presentation Ministries.)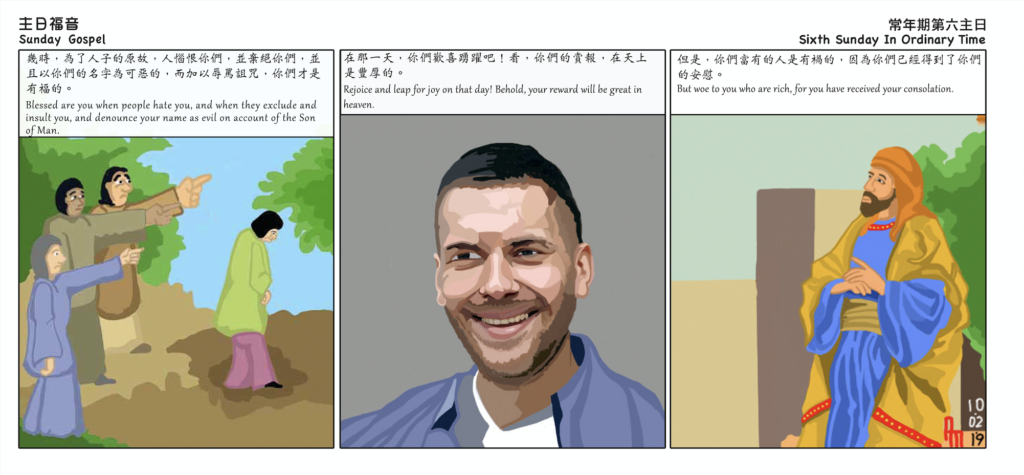 Good News
– Fr Fernando Armellini SCJ
Claretian Publications, Macau
The beatitudes are addressed to the disciples and, ultimately, to the Christian community. Jesus speaks these words after the miraculous catch of fish, and they leave everything and following him.
This voluntary poverty is not something optional, not a counsel reserved for some who want to behave like heroes or be better than the others. It is what characterizes the Christian: "Any of you who does not renounce all his possessions cannot be my disciple" (Lk 14:33).
How to deprive themselves of all the goods and become beggars? It would be foolish, a senseless interpretation of Jesus' words. He never despised wealth, he never invited them to destroy it. He denounced, rather, the risks and dangers: the heart can get attached to them and can become an insurmountable obstacle for those who want to enter the kingdom of God (Lk 18:24-25).
The one who is enlightened by the word of Christ gives the goods their proper value. He appreciates, esteems them; he knows that they are a gift from God.
Poor in the evangelical sense is the one who does not possess anything for himself, who gives up worshiping money, refuses the selfish use of their time, of their intellectual abilities, erudition, diplomas, social position … but opens them up at the disposal of others. He is one who is similar to the Father in heaven who, while possessing all, is infinitely poor because he does not keep anything for himself; he is the total gift.
The promises that accompany the beatitudes do not refer to a distant future, does not ensure the entry into heaven after death, but announces an immediate joy: "Yours is the kingdom of God." From the moment one chooses to be and to remain poor, he or she enters the "kingdom of God," in new condition.
The beatitudes are directed to all Christians to warn them of the lure of the "logic of Satan," by the principles of this world.
Whoever starts again to worship the bank account and career, who thinks of one's own interest, loses oneself behind the flattery and seduction by wealth, accumulates for oneself and squanders, while others are crying and dying of hunger, is "cursed." It's not that God hates him or punishes him. He is "cursed" because he has made the wrong choice. He placed himself outside the "kingdom of God". He receives praise and compliments of people, but not those of God.
Translated by Fr John Ledesma SDB
Abridged by Fr Jijo Kandamkulathy CMF