Jer 1:4-5, 17-19; 1 Cor 12:31 - 13:13; Luke 4:21-30
– Paul Yeung
Luke puts this episode at the beginning of Jesus' public ministry for a reason. The remarkable contrast between the initial acceptance and admiration and the subsequent rejection of Jesus is signature of His whole ministry.
From the initial admiration to the dubious attitude because of Jesus' family background to the final murderous attempt, this gospel passage reminds us the incident will continue to repeat itself to those who spread the Good News, especially to Christ's prophetic witnesses. This has happened to the prophets like Elijah and Elisha. Yet, we should not be scared and threatened by all these rejections and persecutions because God is with us and will protect us. "They will fight against you; but they shall not prevail against you, for I am with you, says the Lord, to deliver you" (Jeremiah 1:19). 
Our world badly needs prophetic voices, which is the role of every Christian. But most of us are like Jeremiah, we have turned God down because of our fears of being too young and ineloquent (cf. Jeremiah 1:7, 14), together with many other excuses. We can find comfort in Paul's letter to the Corinthians that we have a powerful gift and weapon on our side, that is Love — love of Christ and His beloved people. It can expel all fears within us. Indeed, God will prevail and the final triumph belongs to Christ and those who stand firm for Him and persevere to the end.
This gospel passage also challenges us to not be blinded by our own pride. God works and speaks to us in ways that challenge our status quo and our limited mindset. We should not underestimate God's love and mercy by our tunnel vision. He is generous to all, Jews and Gentiles. Our journey to become a true follower of Christ should begin with a humble, open, and generous heart.
---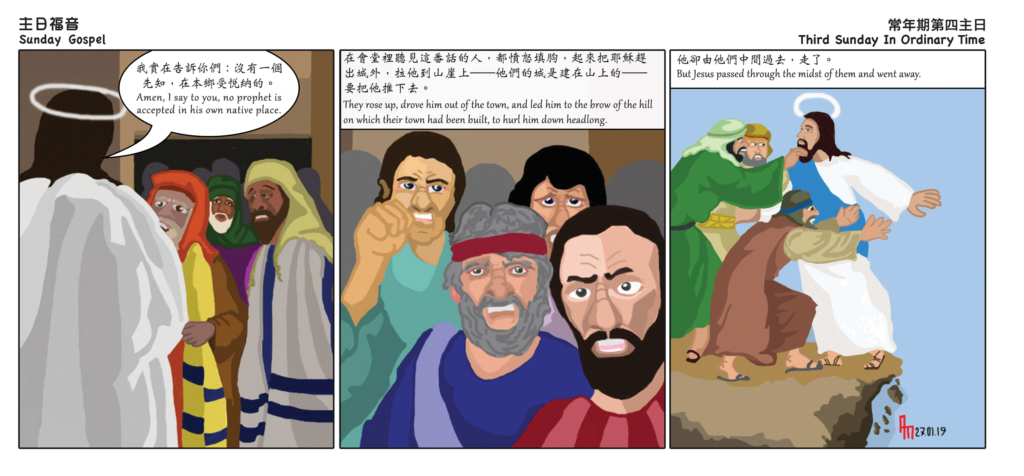 ---
The prophet:

 

an uncomfortable person
– Fr Fernando Armellini SCJ
Claretian Publications, Macau
Today's passage resumes from last Sunday's reading that recounts what happened in the synagogue of Nazareth, when Jesus proclaimed the beginning of the year of grace. What he read is like a manifesto of the whole mission of Jesus which included: the salvation of the poor, the weak, and the oppressed.
Initially, when Jesus read the passage: "All agreed with him, and were lost in wonder while he spoke of the grace of God." How did the approval turn into antagonism, so suddenly? Jesus, probably, did something against the expectations of the people. Could it be?
One thing we note is that, Jesus abruptly stopped reading after a verse and a half. Why has he not gone further? If one reads what comes next in that text of Isaiah, one can deduce the reason. After "I was sent … to announce the Lord's year of mercy" the text continues: "and the day of vengeance of our God" (Is 61:2).
That was the phrase that everyone wanted to hear. The inhabitants of Nazareth, like all the Israelites, craved this revenge of God against pagans who had oppressed them. Here, instead of vengeance, Jesus announces a "year of grace," the remission of all debts, the unconditional benevolence of God to all.
All in the synagogue are outraged at the partisanship of his approach to the holy books. Who does he think he is? Is he not the son of Joseph, the carpenter? The contrast between the traditional mindset that expects a glorious, winner and avenger Messiah and the gracious Messiah that Jesus depicted were in conflict as predicted by Simeon: "He is a sign established for the falling and rising of many in Israel, a sign of contradiction … out of many hearts, thoughts may be revealed" (Lk 2:34-35).
Instead of pacifying the tension Jesus heightens the tension with two proverbs: "Physician, heal yourself" and "no prophet is honored in his own country" causing a second, disappointment in his countrymen. They heard about the wonders he worked in Capernaum and they are deluded to be able to witness those miracles that would mark the beginning of the Messianic era.
The two proverbs are a denial of their expectations, a distancing from their beliefs, a rejection of their dreams, and a sentence on their illusions. He behaves like Elijah and Elisha who helped foreigners not just the Israelites.
This is just too much! The inhabitants of Nazareth understand where he's getting to. Israel is not the only recipient of the promises made to Abraham and his descendants. They had not liked Jesus' choice of leaving his village and moving to Capernaum, a market town full of pagans where life is not always conducted in compliance with the legal purity. Now they realize that his was not an isolated act, but a clear sign that God's salvation has been extended to all peoples.
That was it, it was the outrage against opening salvation to all. We have not changed much either in our days, right?

Translated by Fr John Ledesma SDB
Abridged by Fr Jijo Kandamkulathy CMF