GENEROSITY BRINGS BLESSINGS TO THE GIVER – 9TH November 2018, 32nd Sunday In Ordinary Time
1 Kgs 17:10-16; Heb 9:24-28; Mk 12:38-44
In the patriarchal society of Jesus' time, a widow was not only pitiful but also helpless for she not only lost her husband but at the same time, she also lost her sole source of livelihood. Being dependent on others, a widow was vulnerable, often neglected and "valueless" to the society. Yet today two widows are depicted—- –one in the Old Testament (First Reading) and the other in the New Testament (Gospel Reading)—-as exemplars of generosity and faith. The former gave her last meal to God's prophet while the latter gave all she had to God's treasury.
We know that God's way of seeing things is different from man, so too is His evaluation. "No creature is concealed from Him, but everything is naked and exposed to the eyes of Him to whom we must render an account" (Hebrew 4:13). A little cake and a penny are worth more in His eyes when being given in terms of sacrifice. They are worth much more when the deeds are done in faith. The widows were themselves in need of receiving charity, yet they were willing to give up their last means of self support for a stranger (Elijah) and for God (temple treasury). This is in fact the condition and the basic attitude of what Jesus was telling His disciples — to place all trust in God's hands, to be confident of His provisions and care. (Mt 10:10, Lk 9:3; 10:4; 12:22-31, Mk 6:8)
In the first story, the widow was repaid by God's messenger that "the jar of meal was not emptied, neither did the jug of oil fail". Her generosity to save Elijah from hunger had indeed saved herself and her son from starvation and even more so when later, her son was revived to life by the same man that she had saved (1 Kings 17:17-24). St Paul exhorted generous behavior which is grounded in God's own overwhelming generosity. "The one who supplies seed to the sower and bread for food will supply and multiply your seed and increase the harvest of your righteousness" (2 Cor 9:10). Indeed generosity that was once shown will eventually come back to bless the giver.
We do not know what happened to the widow in the second story, but we can be certain that she would be provided for just as the widow of Zarephath. If giving up one's meal for God's man was rewarded in such an abundance, how much more abundant the reward would be when one gives up for God Himself! "She out of her poverty has put in everything she had, all she had to live on"—–a complete total self offering to God who probes the heart and knows the thought (cf Ps 139) and whose generosity would not be outdone.
God needs not our monetary offering but values a heart that is filled with gratitude and thanksgiving, a heart that gives generously and ungrudgingly, a heart that is humble and meek and most of all, a heart that truly loves Him. With such a heart, we can be as certain as the widows in today's readings—–that our rewards would be plenteous for now and for eternity.
---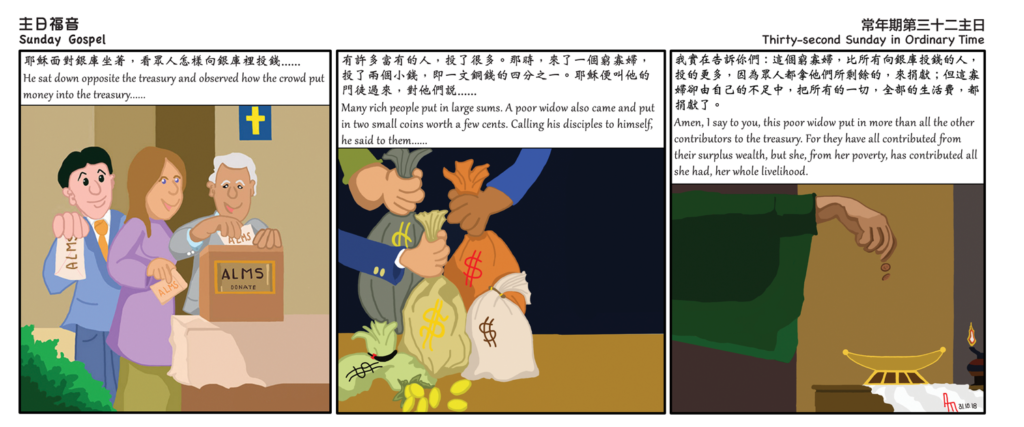 ---
WHOLEHEARTED GIVING
– Fernando Armellini SCJ
Claretian Publications, Macau
Jesus presents to his disciples two contrasting sets of characters: the scribes, who they should be careful not to follow, and the generous, poor widow whose selfless giving is worth imitating.    
The scribes were people who loved to show off their knowledge and their titles and to draw people's attention; they devoured widows' and orphans' goods and made a show of long prayers. The Lord says that they are hypocrites. 
The widow, unlike the rabbis who flaunt their religion, performs her gesture without attracting anyone's attention, without being noticed. This woman did not know Jesus, but behaves as Jesus advised: "When you give something to the poor do not have it trumpeted before you, as do those who want to be seen in the synagogues and in the street, in order to be praised by the people. If you give something… do not let your left hand know what your right hand is doing so that your gift remains really secret" (Mt 6:1-4).
 True love should be total. The love of God must involve the whole person: "You shall love the Lord your God—Jesus ordered—with all your heart, with all your soul, with all your mind and with all your strength" (Mk 12:30) and the love of neighbor must also be without reservation. The widow is presented as a model of this love.
 Even one who is poor, like the widow in today's Gospel, is called to give everything. There is no one who is so poor that they don't have something to offer, and no one so rich that they don't need to receive from others. The widow becomes not only the image of a true disciple, but also of God and Jesus Christ who, "although he was rich, he made himself poor to make us rich through his poverty" (2 Cor 8:9). The widow is the image of God and of Christ, because she emptied everything she owned and made it a gift to others.
Translated by Fr John Ledesma SDB
Abridged by Fr Jijo Kandamkulathy CMF