Is 35:4-7a; Jas 2:1-5; Mk 7:31-37
Fr Fernando Armellini SCJ
Claretian Publications, Macau
The sick to be healed is a "stuttering deaf" as in the original text. For Isaiah, the "stuttering deaf" was the people of Israel. However, the patient who is presented to Jesus is a pagan. It is the condition of every person who has not yet met Christ or one who deliberately closes his ears and does not allow the word of salvation to penetrate his heart.
The word of Christ opens the ears and loosens the tongue even in our families, in the Christian communities, in social settings where often more than communicating, we attack each other because we are unable to listen to the reasons and needs of the other.
In this episode the groaning of Jesus looking to the sky, touching the ears, using spittle are gestures of the healers of his time. But, Jesus gives a new meaning to these gestures. Many details bear a symbolic meaning and even explicit references to the rite of baptism.
To begin with, the deaf and dumb does not present himself to Jesus alone, but is accompanied by some people. To come to Christ and hear from him the word that heals, one must be accompanied by someone, who has already known the Master, a godfather or mother.
Before performing the miracle, "Jesus looks up at the sky and groans…" This is an act of prayer.
The act of "putting the fingers in the ears" is a rite of baptism in some churches. The minister prays touching the ear of the one to be baptized with the thumb. The Christian is not only one who can hear the gospel, but also is one who is qualified to preach the message he has heard. 
To understand the gesture of "touching his tongue with spittle", it should be noted that, in the popular conception, the saliva was considered a kind of focused breath, a materialization of breath. Touching with his saliva, the tongue of the deaf-mute, Jesus therefore intended to communicate to him his breath, his Spirit. This is what happens in baptism. 
Effatà is an Aramaic word, the language spoken by Jesus and it means "Be opened!" It is an invitation to open the doors of the heart and let Christ in and his Gospel in his life.
 The last part of the passage reports, in detail, the outcome of that healing intervention of Jesus and ends with a "final chorus." The crowd sings its joy because the prophecy of Isaiah is fulfilled: God has made "the deaf hear" and "the mute speak" (Is 35:5-6).
Translated by Fr. John Ladesma SDB
Abridged by Fr. Jijo Kandamkulathy CMF
---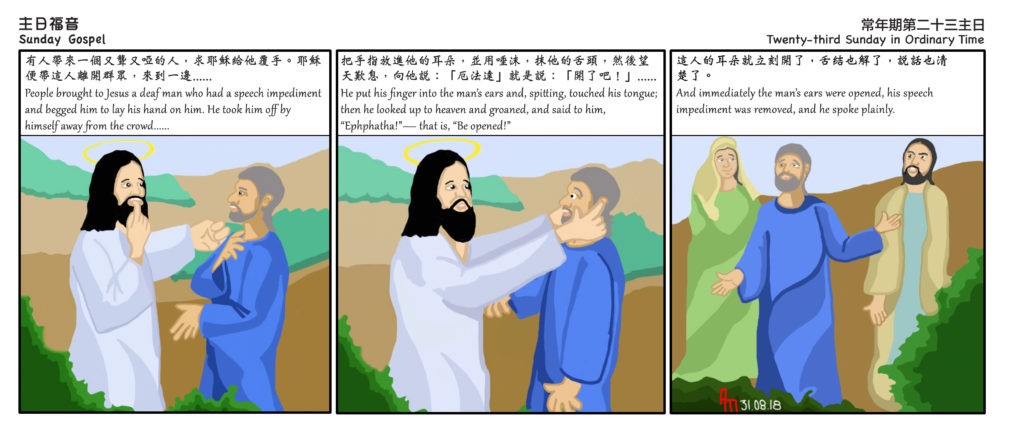 ---
When we are in more serious danger
Today's Gospel Reading is one of the prophetic signs of His first coming, signs that accompanied the arrival of the messianic age of blessings. It reminds us of three similar miracles (Mk 7:33, 8:23; Jn 9:6) in which Jesus, by means of physical actions, cured the afflicted persons. The effect of Jesus' physical acts not only confirmed the healing of the corporeal maladies but also the restoring of the impaired spiritual capacities. Bodily infirmities were very often seen as symbols reflecting spiritual impediments, that is, what is visible exteriorly corresponds to what is spiritual interiorly. Since faith comes through our senses, therefore physical blindness or deafness that obstructs our perception will undoubtedly affect our power of knowledge and understanding. But spiritual blindness or deafness is far more destructive, "They may look and see but not perceive, and hear and listen but not understand" (Mk 4:12) (cf Isaiah 6:9; Mt 13: 13-15; Jn 12:37-41). These spiritual defects not only deprive us of receiving truth but also prevent us from searching for it. When we are spiritually crippled, we are more seriously in danger of losing our salvation than when we are physically handicapped.
In Hebrew, "to hear" refers not only to auditory perception but also includes "to do, to obey, to be obedient". The disobedient Israelites who refused to listen were called "the people who are deaf though they have ears." (Isaiah 43:8). Jesus often concluded His teachings with these words: "He who has ears to hear, let him hear" (Mt 11:15; 13:9, 43; Mk 4:9, 23; Lk 8:8, 14:35) and that is "to act on what is heard". But how can we truly put into actions what we have heard if our ears are closed? Our ears are closed when we do not want to listen to God's Word or selectively hear what is convenient to us. Our tongues will then be tied when we are deaf (like the deaf man in the Gospel) so that instead of giving praise to God and proclaiming the Good News, our tongues become a nuisance to us (cf James 3:5-10).
Dear friends, no doubt that the healing of the deaf man was an amazing miracle, but what is more amazing is what Jesus can do to our spiritual problems, that is, restoring our ears to hear gladly God's Word and enabling our tongues to profess boldly our faith. Let Jesus' word "Ephphatha" open our ears and loosen our tongues. Let Him "touch" us and transform our lives into a new one just as He did it to the deaf man.