1 Kgs 19:4-8, Eph 4:30-5:2, Jn 6:41-51
Summer in Toronto is a beauty.  Too bad it is so short.  This summer of mine began with a 8-day cruise trip from Vancouver to Alaska, on which I was reunited – or reacquainted – with three very good secondary school classmates whom I had not seen for almost 40 years.  Every evening on the cruise, we would gather in my cabin to play "catch-up", rediscovering 40 missing years of one another's whereabouts, undertakings, accomplished ideals, and unfulfilled aspirations. 
At one of the evening meetings, I recounted the story of my personal conversion, how it happened to me almost 20 years ago, and how it changed me drastically from a "Church rebel" to an apologist whose life now featured only Christ and the Church as its centerpiece.  They listened to my story intently and with great respect.  At the same time, if my perception was correct, there was also a little bit of skepticism. "Really…?"
Maybe the skepticism was just suspicion on my part. But if it was true, I wouldn't blame them. After all, they knew me well.  They remembered well my shortcomings as a youth. They knew where I came from, how I grew up, how I craved for "good look", earthly success, and honor. "Ah, so all of a sudden you want to be a saint, eh?  I see…"  They probably believed they got me "figured out".
What they could not figure out – what the human eyes could not see and human reason could not fathom – however, was my spiritual transformation, which my personal misdeeds and shortcomings, no matter how bad, could not impede; and my ancestral roots, whether extraordinary or common, could not generate.  It was the work of the Holy Spirit who, like the wind, "blows where it wills" (Jn 3:8).  It was God's grace that saved in spite of my wretchedness; illuminated in spite of my blindness; and lifted aloft in spite of my lowliness.
In today's gospel, Jesus' contemporaries also thought they had Jesus figured out because they knew his family and where he came from (cf. Jn 6:42).  How could the carpenter's son whom they knew so well make the ridiculous claim that he "came down from heaven" (Jn 6:41), they wondered.  Jesus' true origin is something no human eyes can see and no human reason can fathom because he is divine. So is the conversion of a sinner's heart.
---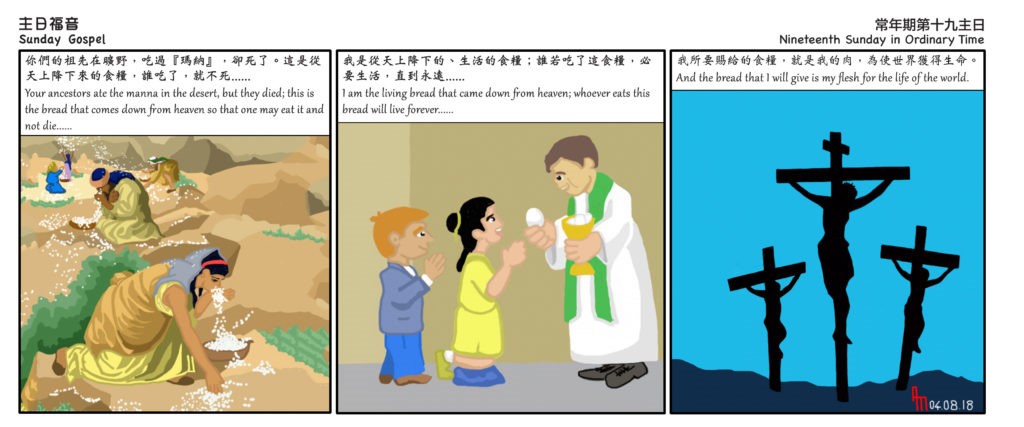 ---
Bread from a carpenter's son
Fr Fernando Armellini SCJ
Claretian Publications, Macau
In the last part of last Sunday' passage, we heard Jesus declare, "I am the bread of life." He is the "bread" as the wisdom of God. Anyone who assimilates his proposal will satisfy the hunger and thirst for happiness and love (Jn 6:35).
Faced with this unprecedented demand, the Jews react in the strongest possible terms. They are convinced that they already have the "bread" that satisfies: the Torah, the Word of God contained in the Holy Scriptures. (Sir 15:3). 'Jews' do not need other bread and cannot admit a man who proposes himself as the "bread of life."
What presses John is to explain to the 'Jews of today', that they are faced with an alternative and have to choose between the wisdom of the Gospel, which is the bread of life, and the cunning of the world, which is the poison of death. "Today" they are being asked to believe that in Christ "all" the wisdom of God is present.
Unfortunately, today, as then, many simply recognize Jesus as the wise man who has shown the paths of justice and peace, one of the many prophets, perhaps the greatest of the prophets but refuse to accept that he is "the Only Begotten" of the Father (Jn 1:14). They do not believe that "God so loved the world that he gave his only Son, that whoever believes in him may not be lost but may have eternal life" (Jn 3:16).
In the last part of this passage Jesus makes the startling revelation: in order to have life, it is a must "to eat the bread which is his flesh." The manna that the Israelites tasted in the desert did not communicate the fullness of life, in fact, all died. Only those who eat the bread from heaven will live forever.
The Semitic concept of "the flesh" is not identified with the muscles. It indicates the weak, fragile, human person as mentioned in Psalm 78:39: "he remembered that they were but flesh, a breeze that passes and never returns" (Ps 78:39). When, in the prologue of his Gospel, John says: "The Word was made flesh" (Jn 1:14), he does not refer to the fact that the Son of God assumed the outward appearance of a man, but that he made himself similar to us, welcoming even the most precarious of our condition.
"To eat" this God made flesh means to recognize that through "the carpenter's son" goes the full revelation of God; it means to accept the wisdom from heaven even if he sees it covered with "flesh," that is, of all fleeting aspects that characterize our human weakness. Later the discourse will lead into the Eucharist which we will discuss next Sunday.
Translated by Fr John Ladesma SDB
Abridged by Fr Jijo Kandamkulathy CMF