Category Archives:
All Categories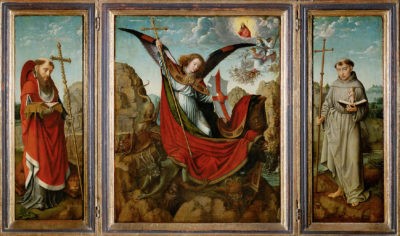 CAPTION: Altar of Archangel Michael (c 1510), Gerard David, Kunsthistorisches Museum, Vienna, Austria
– Miguel Augusto (*)
Pope Francis warned that "the boat of the Church is hit by contrary and violent winds," and  has launched for October – a month especially dedicated to the Rosary – a strong appeal to prayer, namely against Satan, the number one enemy of the Church and of all Christians. The appeal calls on the faithful from every continent to pray the Holy Rosary every day, asking the Virgin Mary and St Michael the Archangel to protect the Church from the enemy in these difficult times. The Pope asked to add in the prayer of the Rosary the prayer "Sub tuum praesidium" ("We fly to your protection") to the Blessed Virgin Mary and the prayer to St Michael the Archangel (composed by Pope Leo XIII). Bishop Stephen Lee has joined the Pope in this appeal, addressing the local community on 5th October. What do we know about Saint Michael the Archangel and other angelic entities?