GREAT FIGURES OF THE MISSIONARY WORK – Bengal and the Kingdom of the Dragon (12)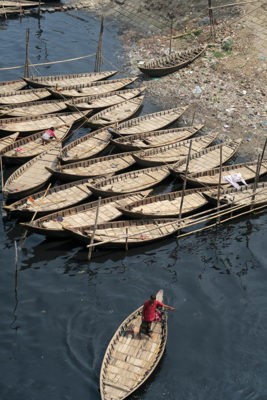 – Joaquim Magalhães de Castro
On the banks of the Buriganga river there are myriads of small boats, true water taxis, maneuvered by a single man. With one of his hands he moves the oar attached to the rail, and with one of his foot he maneuvers the rudder, when there is one. Only one passenger embarks at a time. There he stands – the oar man – stiff, with solemn air, an umbrella wide open and pointed forward as if holding a sword. On other occasions, pairs of women embark identified by the colorful saris.
Not infrequently, we see the dealer and his cargo stacked in burlap sacks. Occasionally a family. Mother, father, infant, all in a relaxed version, sitting on the board of the boat as if they were having a picnic, with the watermelon just bought and already cut next to them. Watermelon is, moreover, a fruit that is recommended, preferably sprinkled with a small amount of salt to improve the palate. Everything bears the small and stoic "dingi" – this is how they are called those boats. On one of the banks, grouped and covered with green tarps, they serve as a resting place and lunch room for their owners and families, the so-called "majhees," that is, boatmen. Scattered rests on the shelves the removable covers, clustered plastics and cloths, ready to take action as soon as bad weather sets in. On the opposite shore, tons of watermelons are discharged from a boat full of them and soon a market is improvised there. I applaud the pragmatic initiative, for the transport of such a perishable product thus becomes unnecessary. Across the bridge, more watermelons. Huge, oblong, striped and succulent. Heaped on a bench next to the mangoes and pomegranates and the other fruit of import, protected by pieces of synthetic foam: apples, oranges and grapes, all originating in China.
The only visible historical memory is the small mosque of Badamtoli Puranton Jame Masjid, of Mughal architectural design. In all resembles that of the Fort of Lal Bagh and Ahsan Mazil, the official residence of the rulers of Dhaka, the famous palace of Rangmahal – "with the most beautiful women in the kingdom," as Father Estevão Cacela tells us in his letter – the current headquarters of the National Museum.
One can imagine what that whole human circus would look like, down the river, upstream, in the sixteenth century. I visualize them, the two Portuguese Jesuits, on their way to Tibet, in a boat probably not very different from those that we see now sailing the dying waters of the Buriganga.