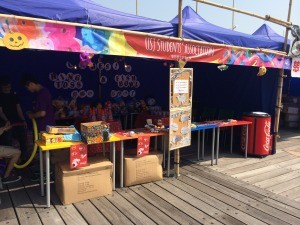 The University of Saint Joseph Students' Association had the opportunity to participate in the "45th annual charity Caritas Bazaar" in Nam Van Lake. In the event, our booth was able to raise a total of MOP 9,118.70. We were able to donate MOP 7,789.10 after the expenses were covered. Despite not being a large sum of money, the amount raised proved the hard work of everyone who came to the three-day event.
We would therefore like to thank and give our utmost gratitude to the following institutions and parties, because without their assistance and support this activity and event would not have been successful.
Firstly, we would like to thank Macau Coca-Cola Co.
We would also like to give our gratitude and thanks to the University of Saint Joseph, St. Joseph's University Student Affairs Office and Prof. Jacky. We wouldn't be able to run this program without your support.
Many thanks to our Volunteers who kept the booth running despite the hot weather; Mukeh, Richard, Sam Mok, Timothy, Vivian, Wayne, Chloe Ao, Rafelle Marie Allego, Owen, Dennis, Colin Chan, Hoi Chi Man, Sanka, Sophia, Sofia, Daniel, Vanessa Josefina, Fidel and so on.
Lastly, we would like to acknowledge those who donated for the cause; Cynthia, Andre, Mukeh, Sophia, Joey, Colin, Xenia, Abby, Daniel, Nicole, Kenny, Karman, Noel, Vanessa, Claire Alexis May Jorado, Samantha Sio, FELIPE FARINHA, Sofia, Terry, Manday, Alice, Gaug and so on.