Father Gaetano Nicosia: a story that needs to be told 
Paola Caronni
(Beyond Thirty-Nine) I had the occasion of meeting Father Nicosia three years ago at the 'Little Sisters of the Poor- St. Mary's Home for the aged' in Aberdeen, where he resides.
In taking us to meet Father Gaetano Nicosia, the Mother Superior said that, every Sunday, he was still celebrating the Mass in their church, in Cantonese. We found Father Nicosia in a room, with a huge book opened in front of him. He was praying. Father Nicosia started speaking to us in Italian, with his beautiful Sicilian accent, now and then adding some Cantonese words to his sentences.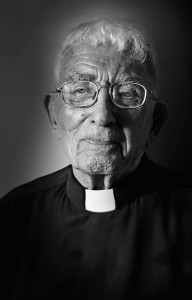 He almost immediately became very nostalgic and talked about his mission in Macau. He told us that he missed his village of Ka Ho, on Coloane Island, and that he had felt very sorry to leave it in 2011, because he spent his almost entire life there. Father Nicosia arrived in Ka Ho, in 1958, after a full day's ship voyage from Macau. He renamed the place 'Gila Villa de Nossa Senhora' (Village of Our Lady). At that time, patients were scared of showing their flattened faces or deformed limbs, and it took him a while to gain their confidence. The patients' families were so horrified by leprosy, that they had banished their offspring and left them to die alone. Thanks to the use of western medicine, and to the indefatigable dedication of this priest, the patients started to receive medical treatment and the village slowly became leprosy-free. Nicosia's relentless work helped in giving the village a respectful trait too: there were now clean, white residences for men and women and carefully tended gardens. A hospital and a church were built. Nicosia continued to take care of the patients even after they healed. The stigma and discrimination linked to leprosy, that left the patients with crippled limbs, scars and shortened fingers, would not allow them to leave the village and carry on a normal life elsewhere. Father Nicosia believed in the villagers' abilities and this allowed Ka Ho to become a self-sufficient reality: people were working, a road was built and the village became more accessible. More and more western tourists were coming to visit the place too, and this acted as a moral booster for the ex-patients, who started to feel less isolated from the world.
Father Nicosia will turn 100 years old next year. Beyond 39 feels that Father Nicosia's incredible life needs to be told. It has to be forever remembered and become a testimony of how – with an unfaltering faith- this man could win illness, difficulties and stigma, and dedicate his whole life to the sick and needy people, helping them in all ways with tangible assistance and medical and spiritual support.
For this reason, we have the ambitious project to create a documentary-film that will be distributed in Hong Kong and abroad. In order to complete this task, we have launched a fundraising campaign on Indiegogo, as we need everyone's help to raise USD 3,000. If you click on the link in the header or on this http://igg.me/at/b39-Nicosia, you will be able to find more information and to give your precious contribution. If we do not manage to reach our full fundraising objective, B39 will top up at its own expenses, and we will still carry on with the project.
The film will include interviews with Father Nicosia and with all other relevant people and religious representatives who know about his remarkable life. B39 will also visit and film Ka Ho Village, as well as other areas in and outside Macau, where Father Nicosia lived and worked in the past: Salesian House at Shau Kei Wan, St Anthony in Puk Fu Lam Road, St Louis School (West Point) and possibly more. There will be shooting of movie images of old pictures, documents, books, awards and medal, holy pictures etc, too. All related to Father Nicosia.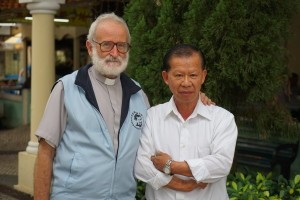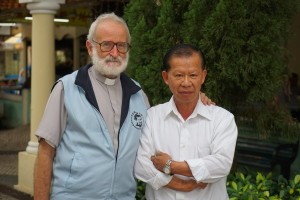 In a word, we would like to achieve the goal of obtaining a fine finished product that includes all the highlights of Nicosia's unique mission in Macau.