Charity event invigorates participants in Escola da Sagrada Família
Benedict Keith Ip
It was a sunny day on November 23, 2014 where Escola da Sagrada Família (EDSF) held an annual carnival to raise funds for two schools in Cong Yang County (欉陽縣), Anhui Province, with the hope of improving their study environment and facilities.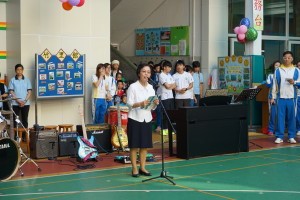 The opening ceremony began at 9:30 AM. All the guests were invited to launch confetti cannon (see photo agenda in Chinese section page 4). The School principal Sr. Lin Shuhua (林淑華修女) thanked all the teachers and students for the extra weeks of effort they have spent to prepare this carnival. She added a note that with the assistance of the Dominican Fathers, EDSF started contributing donations and various supports to the least brethren in China since 2008. EDSF has already helped 8 schools to construct, renovate and upgrade their campus and resources.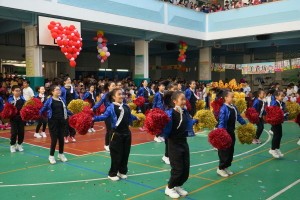 The Head of Department of Education in DSEJ, Ms. Leong Vai Kei (梁慧琪廳長), stressed the importance of sharing joys and parental love to the suburban students through this charity opportunity. She reminded the students to treasure and be thankful for what we have been offered by the parents. Secretary-General of Macau Caritas Paul Pun Chi Ming (潘志明總幹事)praised the works and environmental care the school has done for the poor. It is easy to build new facilities but it is hard to conserve the environment if we are over-developing. EDSF has done a great job in handling the development as well as environmental protection.
The ceremony then proceeded to four shows prepared by teachers and students. The school has raised $45,615.10 altogether before the event. There was an interactive band show, a lively cheering squad dance, junior students' dragon dancing, and a very dynamic rope skipping. The Chinese Educators Association of Macau Mrs. Chan Hong (陳虹理事長) told O Clarim that this event is very valuable for all guests here to express the care and love of the motherland. The carnival also offered a very good platform for students to demonstrate their performance. They can actually participate in the process of fundraising and, at the same time, express the variety of extra curricular activities that the students have learnt from. She hopes EDSF can keep and develop this great tradition and thus contribute to Greater China.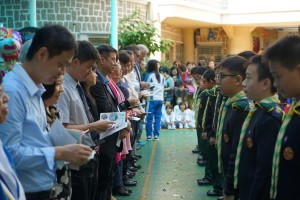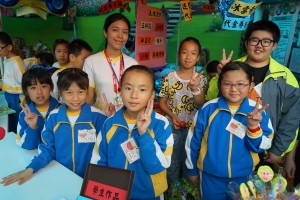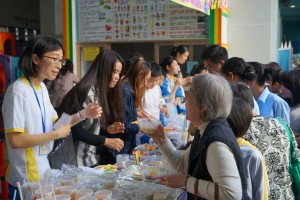 Related Posts