Hands that bring healing
Joaquim Franco
In our second issue, we featured a project that helped rebuild schoolhouses in storm-ravaged Leyte, Philippines. That article inspired this one, where the author, a visual artista from Macau, talks about how he helped children recover from the trauma of the typhoon — through art. 

Tacloban, a city located in Leyte, Visayas, Region VIII, of Philippines, was hit  by Super-typhoon Yolanda on 8 November 2013. Packing howling winds of up to 375 kilometers per hour and strong rains, the tsunami-like storm smashed on the Pacific shores of Samar and Leyte.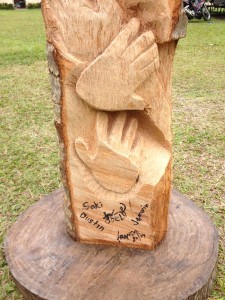 The devastation in these island provinces was more jolting and extensive than that of the other Visayan provinces. More than 6,200 people perished. Over 2,000 others were declared missing. An estimated 1.1 million houses were severely damaged or destroyed. Four million people were rendered homeless. Around 33 million coconut trees were broken or uprooted. A total of 30,000 fishing boats were swept away or wrecked. Some $ 788 million would be needed for shelter and livelihood to rehabilitate and restore the Yolanda-hit areas in Samar and Leyte. (Estimates are based on official statistics of the United Nations and Business World as of February 17, 2014.)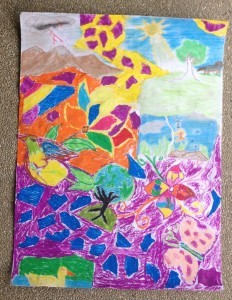 After the typhoon, I met a young Philippine artist in Macau, Melissa Yeung.
I proposed to her to go to Tacloban to help the kids who survived the typhoon witn an Art Therapy Project. Melissa was happy with the idea, and proposed that I go to Manila to meet her there.
So, on the 16th of February, I flew from Macau to Manila. Thanks to my colleague and her family who welcomed me to their home in Manila, I was able to draw up a list of contacts who could offer help and support.
I spent around a month getting in touch with these possible sponsors. I also got in touch with the Philippine government's Development and Social Welfare Department (DWSD) and the UNICEF team in Tacloban.
They all praised and welcomed my proposal, but these did not translate into the financial support I needed to purchase materials for the work of the kids, accommodations, food, and transport.
As I was mulling over the idea of going back to Macau and abandoning the project, I happened to sell a painting in Manila. Around the same time, I was able to get in touch with the head of a village, Kapitana Engineer Evangeline, from Barangay S. Jose Dulag, who offered me her house for accommodations and liked the idea of holding an art workshop for the children.
With the money from the painting I sold, and the kindness of Engr. Evangeline, I flew right away to Tacloban. Engr. Evangeline was in the airport to welcome me. Without her support the project would not have been possible.
I arrived a few days before the start of the project, already five months after the passage of Yolanda. I cannot find the words to descibe the sight that greeted me in the airport as well as the devastation along I witnessed on the road leading to S. Jose Dulag. It was a shock for me.
But the human experience I had with the kids was amazing and incredible. We cannot imagine how those children answer and worked with happiness and a smile on their faces, producing great quality and beautiful art works.
For three weeks, I ran an art workshop in the high school of S. Jose Dulag, thanks to Mr. Go, a teacher in the same school, who received me and gave me all the support I needed.
In the beginning it was difficult. Around 100 kids joined the workshop. But the way those kids behaved was impressive.
As I consider art therapy a serious matter and as I'm not a doctor or even a therapist, without a health team headed by a psychologist, I could not conduct one.
So I just did an art workshop, with all freedom that it can give to the participants and myself. However, my contact with the reality there gave me the impression that there is still a lot to be done to help the children overcome the trauma wrought by the typhoon and recover the balance in their emotions and feelings.
Indeed, art can help. It help them improve their mental and emotional well-being, afford them a way to express their emotions and feelings freely, help them acquire confidence to become more positive and grow in self-awareness, etc … I believe I can really help them to develop good habits and feel a great sense of accomplishment. I am still hoping that in the near future, with the necessary support, I will be afforded the chance to train them in creative and human skills for an enjoyable and sustainable personal development and growth.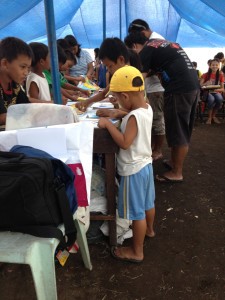 For queries about this social project and how you can help organize more, please contact the author at francojoaquim@gmail.com.
Related Posts