From non-believer to apostle of the airwaves (II)
Presently, regular contributors to the program and in Hong Kong are Father Jay, and Father Brian Barrons, Maryknoll Fathers and Brothers, and on occasion Father Emil Lim, SVD.  In the Philippines, by phone, our contributors are SVD Fathers Lino Nicasio in Manila and Father Randy Flores in Tagatay.
The Hour of Love had been on the air for a only a couple of weeks when something equally surprising happened. The telephone started ringing.  What was so amazing about that was that the callers were not calling to request I play their favorite hymns.  They were calling with prayer requests!  We humbly asked all listeners to pray for the requests of all who called as well as all who placed their requests to God during the program.  So many requests started to come in that soon all five telephone lines were busy.
Soon thereafter we started to witness how the Lord works in the lives of believers.  Callers began to call back with the most amazing testimonies and witnessing to prayers answered.  Exams had been passed, job interviews went well, broken relationships were healed, husbands returned to their families, children not heard of for many years were suddenly heard from, and most amazing of all were the physical healings of all kinds of physical afflictions both simple and life threatening.  The power and glory of God and prayer had found a channel to report the Good News to all, of God's amazing grace.
More good news arrived during the first year and much more to the present day.  Letters started to arrive by the dozens from an unexpected source.  Unbeknown to us, we had a large and "captive" audience of avid listeners every Sunday night in all of the Hong Kong Correctional Institutions.  I have been blessed to visit as many prisoners who write to me as possible in all the Institutions.  I also place calls to their relatives upon request, anywhere all around the world.  Although all listeners can hear the calls since they are "live" the calls have been a big blessing to those who hear the voices and experience the support and encouragement of their families and loved ones far away.
I mentioned radio time is expensive.  This became a big problem for me in 2008 because we have no sponsorship.  Father Jay Flandez suggested we approach Bishop John Tong with request to establish a Mass to support the program.  The Hour of Love Holy Mass was born.  But where could we possibly find a venue?  The Lord provided and answered our prayers once again when by chance I happened to mention our need to Father Joey Mandia of Opus Dei.  Father Joey referred me to Brother Thomas Favier at St. Joseph's College. Brother Thomas graciously has allowed us to use the 2nd Floor Chapel, and the Hour of Love Mass and Community were born!
In addition to the Fathers Brian, Lino, Jay and Randy, plus Father Vince Corbelli and Adam Gudalfsky of Maryknoll Fathers who contribute to the radio program, we are grateful to Fathers who celebrate our Mass each Sunday including Father Jun Jacobe, OMI; Father Helmut Peter, Joseph Tan, and John Zhang, SVD, and on occasion Father Joey and Father Joseph Fu.
A very important part of our apostolic works is to give comfort to all who are in prison and who look forward to listen to the program every Sunday night. Father John Wootherspoon, OMI and Columban Father Pat Colgen contribute faithfully to the program for our weekly segment appropriately entitled "Prison Visitation 'On-the-Air'".
Where do we go from here?  After ten years, we hope to increase our world-wide listener base via the internet and social media.  Just this month we have been approached by the prisoner support "Christian Kun Sun Association" with hopes to increase the program time by adding a Cantonese language segment for our Chinese listeners in prison to supplement our Tagalog and English segments.  We are confident God will provide and encouraged since just last year, Sis Romilly Chan joined our program to sing and read the word of God in English and Cantonese.
I wish to conclude by thanking once again Bishop John Tong, and also Chancery Father Lawrence Lee of the Diocese for their permission to hold Mass every Sunday and on many occasions in the public, on special Sunday's at Chater Road and Chater Garden in Central, Hong Kong.
We are thankful and humbly grateful all who have touched our lives, and pray that we may continue to bring the good news of God's saving grace to all listeners.
In Jesus Christ, with the intercession of our Father in heaven, our Blessed Mother, St. Joseph and all the angels and saints.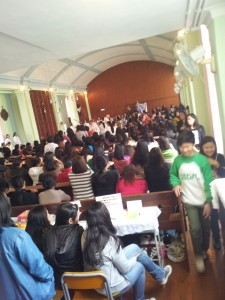 Bruce Aitken goes on the air in AM1044 Metro Plus, from 9 to 11 PM every Sunday.
Related Posts